Canterbury residents told to avoid Rakahuri/Ashley River due to toxic algae
Author

Publish Date

Fri, 29 Dec 2017, 7:20AM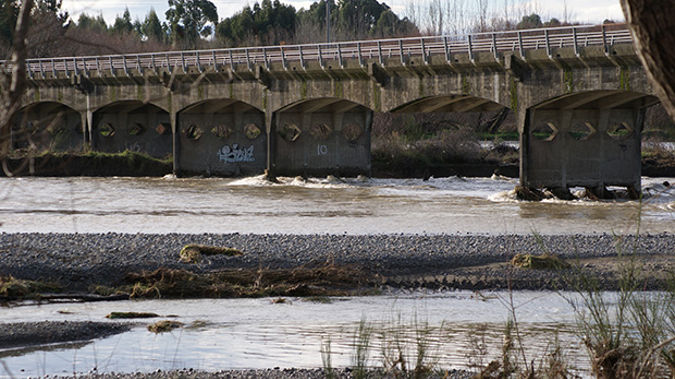 Canterbury residents told to avoid Rakahuri/Ashley River due to toxic algae
Author

Publish Date

Fri, 29 Dec 2017, 7:20AM
Cantabrians looking to cool off in the heat are being told to avoid the Rakahuri River, which is being affected by an algal bloom. 
An existing warning is in place at the Loburn Bridge crossing in Rangiora, and the latest warning has been made for the area around the State Highway One bridge, north of Waikuku. 
The cyanobacteria algae looks like dark brown mats, and can produce toxins harmful to people and animals.
Those exposed may suffer nausea, skin rashes and stomach cramps, and should seek immediate medical attention, Canterbury Medical Officer of Health Dr Ramon Pink said.
People and animals should not go towards the river while a health warning is in place, according to the community and public health division of the Canterbury District Health Board.
The algae look like dark brown to black mats and can produce toxins harmful to people and animals, "Exposure may cause skin rashes, nausea, stomach cramps, tingling and numbness around the mouth and fingertips.
"If you experience any of these symptoms, visit your doctor immediately, also let your doctor know if you've had contact with dark brown/black algal mats or water in this area."
The algae occur naturally but can increase rapidly during warmer months.
It often has a strong musty smell and algal toxin concentrations can vary over short periods with changing environmental conditions.
Although high river levels will remove the algal bloom, detached mats can accumulate along the shore and increase the risk of exposure to toxins.
Reticulated town water supplies are currently safe but no one should drink water from the river at any time.
Pets that show signs of illness after coming into contact with algal mats should be taken to a vet immediately.
Environment Canterbury is monitoring the sites and the public will be advised of any changes in water quality.
Warnings to stay out of Te Waihora/Lake Ellesmere, Selwyn River at Whitecliffs Domain, Selwyn River at Glentunnel, and Ashley River Rangiora/Loburn Bridge are still in place.
 - additional reporting NZ Herald