Flooding, breakdowns on Auckland's motorways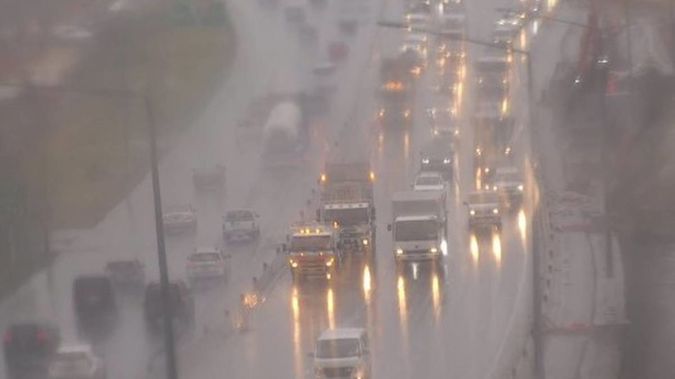 Auckland commuters are facing a long afternoon of delays following a day of constant rain.
Niwa reports the City of Sails has recorded more rain in the last 21 hours compared to the previous 639 hours, 30mm compared to 29mm.
After flooding twice on separate occasions this afternoon, all northbound lanes of the Northern Motorway have reopened.
NZ Transport Agency said at 4.30pm flooding, which forced the right lane's closure, had been removed from the lane an hour after it was blocked.
The flooding has taken place near the Upper Harbour Highway onramp on the Northern, disrupting northbound traffic all afternoon.
Surface flooding is still present in the area and motorists are asked to take extra care in the area.
Heading southbound on the Northern Motorway, traffic is heavy approaching the Harbour Bridge.
Auckland recorded more rain in the last 21 hours (30 mm) than it had in the previous 639 hours (29 mm) 🌵 | 🌧️

3-day satellite loop 👇 pic.twitter.com/aJ8A7clBr6

— NIWA Weather (@NiwaWeather) July 4, 2019
Traffic is heavy between Symonds St and Mt Wellington and in patches from Highbrook to Takanini on the Southern Motorway heading southbound.
Meanwhile, traffic is heavy between Princes St and Greenlane heading towards the city centre.
There is a queue moving southbound on the Northwestern Motorway and northbound, traffic is heavy between Great North Rd and Lincoln Rd.
On the Southwestern Motorway, traffic is heavy between Mangere Bridge and Massey Rd, again approaching the Southern Link.
Northbound traffic, meanwhile, is heavy between Roscommon Rd and Neilson St on the Southwestern.
Both directions of the Upper Harbour Highway, east and westbound, are free-flowing.
NZ Transport Agency earlier warned Auckland drivers to be prepared for peak traffic to hit earlier in the afternoon than usual.
Elsewhere, the wet weather and wind has created headaches in the inner city.
Emergency services have been called to deal with a 40kg cladding panel that blew off an upper storey of a building on the corner of Victoria St West and Nelson St in Auckland's CBD.
The building is subject to $40 million of remedial work which began in March.
The cladding appears to have fallen from an upper storey of the building on the corner of Victoria St West. Photo / Will Trafford
Police closed the area out of fears further panels could fall down. There are massive delays in the area.
Victoria St West has been closed off between Nelson St and Hobson St. Vehicles are being sent on a detour, with several bus routes affected, including the 22, 24, 75, 106, 125x, 129, 132, 133 and the InnerLink.
Surface flooding has been affecting roads across the upper North Island today.
Slips and a rapid rise of water levels in streams and rivers were also possible in Northland, Auckland, Waikato and Bay of Plenty today, MetService warned.
A vehicle breakdown in the Waterview tunnel was also causing delays earlier, with drivers asked to merge right if possible. An earlier breakdown that was blocking the left lane of the Northern motorway just after the Victoria Park tunnel heading north has been cleared.