Mike Yardley: Kaikōura culture, heritage & kai
Author

Publish Date

Fri, 5 Nov 2021, 2:00pm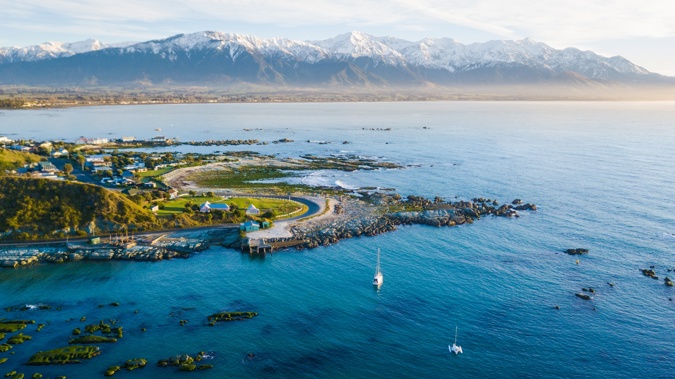 Mike Yardley: Kaikōura culture, heritage & kai
Author

Publish Date

Fri, 5 Nov 2021, 2:00pm
Five years on from the devastating 7.8 magnitude quake, the Kaikōura Coast highway drive is a destination in its own right and surely our greatest engineering achievement in the past 100 years. Recently, at Ohau Point, I found myself standing in slack-jawed wonder at the monumental scale of the reconstruction works, a guts and glory triumph that can only be considered as heroic.  One of the silver linings to the rebuilt highway is the number of safe roadside stopping bays that have been crafted into the works. Ohau Point is a compelling stop, comprising the largest fur seal colony in New Zealand, stretching 3kms up to Paparoa Point. Two thousand seals call these rocks home, returning here to procreate. Breeding season is well underway and the first pups are typically born in the first couple of weeks of December. There was plenty of hollering and hooting from the males lounging over those rocks, when I was recently there. 
Paparoa Point lookout. (Photo / Destination Kaikoura)
A huge package of artworks are threaded into the highway route, from Oaro to Clarence, including beautifully carved pillars or pouwhenua, magnificent murals and a spree of interpretation panels that bring to life stories from Māori mythology, local history and insights on the ravishing natural environment. Home to Nin's Bin, Rakautara has been refreshed with a strong kai moana design motif, accentuated by Maui's famed fish hook. The plantings are really special too. For example at Ohau Point, they have planted the carparking area in the Ohau Rock Daisy, which was nearly wiped out by the collapsing cliffsides during the quake. They are unique to the area. Seeds were collected from the crushed plants, they were replanted and the daisy's status has improved immeasurably.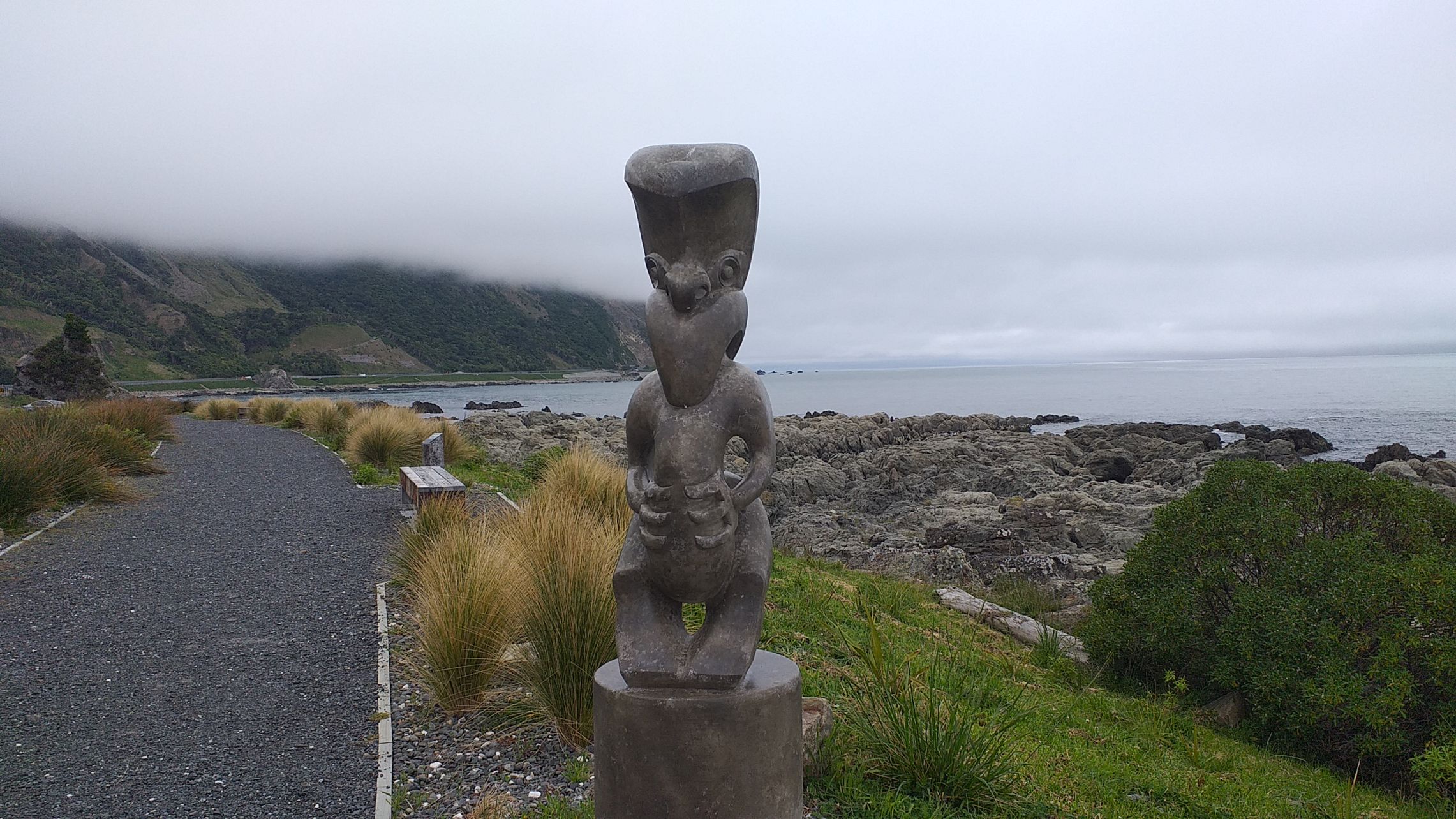 If you really want to delve into Kaikoura's topographical tapestry, some wondrous operators will deftly prise open the back country for you. Driftwood EcoTours offer a variety of multiday small group tours reaching deep into the heartland. Will and Rose will treat you royally taking you to places like Waipapa, where you'll meet local farming couple, Derrick and Jane Millton and visiting the place where 'Little Moo' was rescued in the 2016 earthquake. https://www.driftwoodecotours.co.nz/
I also met Nicky McArthur, the vivacious owner of Puhi Peaks Station, the highest privately owned property in New Zealand, rising from 400m to 2600m. It is the jawdropping altitude change and biodiversity richness that makes it so exceptional. Puhi Peaks Nature Reserve is internationally renowned for its rare and endangered flora and fauna, including boasting 1 of only 2 remaining wild breeding colonies in the world of the Hutton's Shearwater. The highly industrious Nicky is also heavily engaged in cheerleading for Kaikoura to be declared a Dark Sky Reserve, not just so you can gaze at the heavens in starry-eyed wonder, but so as to minimise the light pollution interfering with the flight path of the Hutton's Shearwater, from the mountains to the shore. There's a variety of wilderness and cultural experiences to be savoured at her station.  http://puhipeakskaikoura.nz/
Adjacent to Wakatu Quay on Avoca St, step inside Kaikoura's oldest surviving building, Fyffe House. The curator of this waterfront treasure, Anne McCaw, gave me a great tour through this heritage heart-stealer, which dates back to 1844 and the beginning of European settlement in Kaikoura. Robert Fyffe established the first shore-whaling station and this is Kaikoura's oldest surviving building. His cousin, George Fyffe, added to the building in the 1860s, and as you walk through the wooden colonial home today, you can still see the wallpaper dating back to those early days. Pretty in pink, its colour palette was created from red lead and white lead mixed with whale oil. 
It's an incredible link to its legacy, chasing the mighty southern right whale, to light the homes far away in Europe with oil-burning lamps. One of the nods to history inside the house that engrossed me was the story of the Fyffe Moa Egg. In the 1850s, George Fyffe and his team discovered what remains the largest moa egg ever found. It was in a sea cave, just behind Fyffe House. And it was part of a burial offering, from hundreds of years earlier, marking the death of a moahunter. His skeleton was also found in the cave alongside an argillite adze. The egg ended up in the hands of a private collector, overseas. It spent time in the British Museum, but was finally repatriated and now takes pride of place in Te Papa. The building's most extraordinary feature is its foundations. Fyffe House was built on piles made from whalebone vertebrae – which are still visible. The building fared remarkably well in the quakes – and the whale bones essentially acted like base isolators.
With November 16 marking the 5th anniversary of the earthquake, the town is very excited about its anniversary gift: the grand opening of the stunning new aquatic centre, up on Kaikōura Peninsula, with the most salivating view of the mountains. Just under a year ago an incredibly inspirational tour de force was completed. The Mayfair is best known for its striking pink art deco façade. First built in the 1930s, the Mayfair Cinema has been transformed into a multi-purpose cinema, theatre, gallery and conference venue. The acoustics are superb. After the quake devastated the building, the landmark façade was saved while the bulk of the building was fully reconstructed. The Kaikoura Op Shop alone gifted and pledged over $300,000. And the façade's pink hue has now been officially named Mayfair Pink by Resene. Aside from catching a movie or a show, there's always a great art exhibition to check out too, in this reborn art deco legend. 
At the north end of town, make your way to the Classic Car Museum. I'm a walkover for anything retro Americana. Father and son, Bernard and Geoff Harmon share a deep passion for classic cars, particularly American classics, ushering the establishment of Harmon's Motor Museum to showcase their seriously impressive collection. It's housed in the old Mitre 10 building on Beach Road and they have created some fantastic sets to ramp up the atmos within the museum. Best of all, they've recreated the main street of Kaikōura, circa 1950s, within the museum, to play on the classic car vibe. The headline set is a massive reconstruction of the legendary Adelphi Hotel, which previously took pride of place in the heart of town, before it was destroyed in the quake. Bernard had actually bought the hotel just months before the quake, but it was totalled by the natural disaster. His tribute to the Adelphi is a stunner. It's so elaborate. It's not a full-scale replica, but very close to it!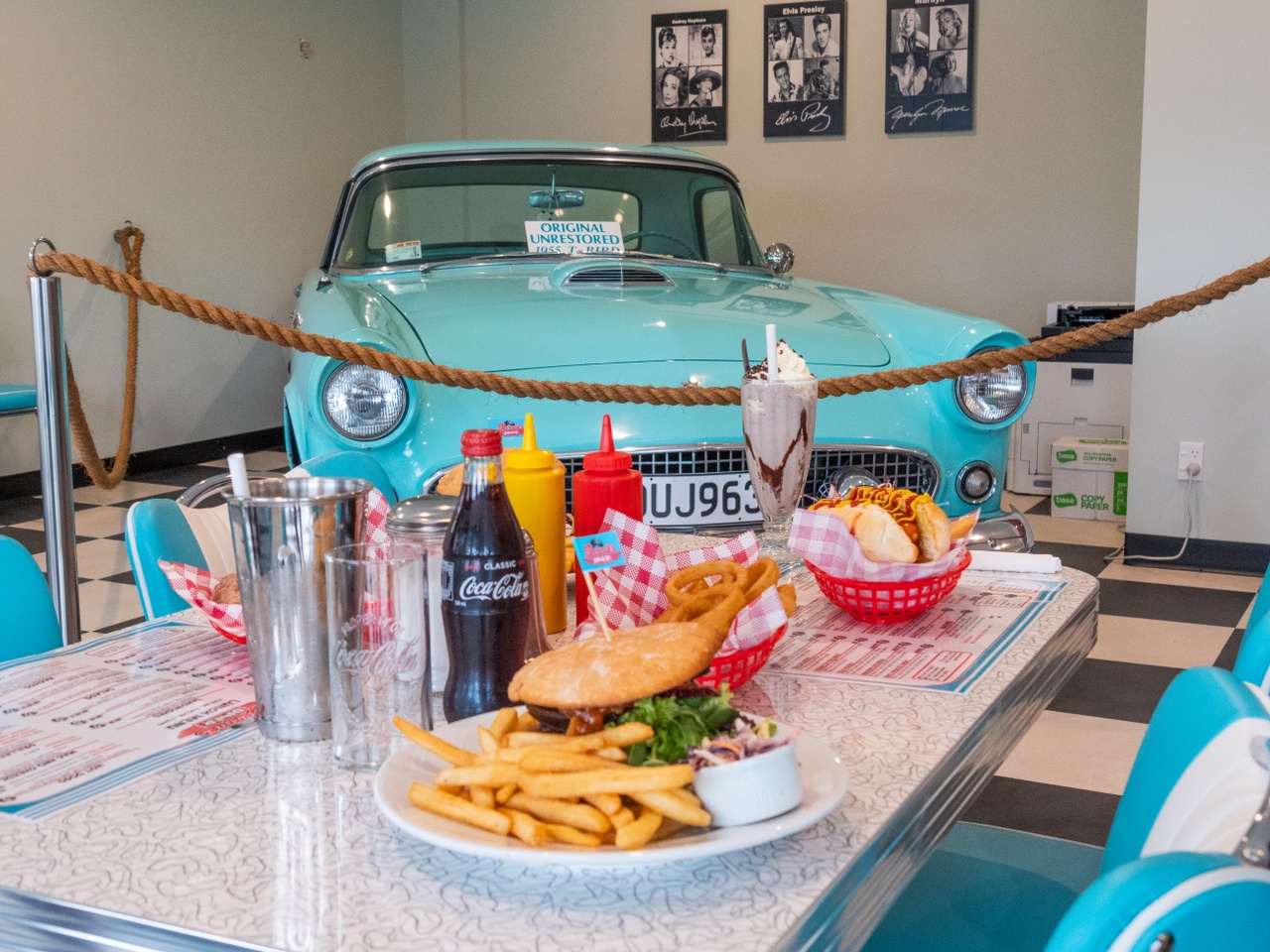 Classic car at Bernie's Diner. (Photo / Destination Kaikoura)
Out front, and only a year old, a quintessential American-style diner, has been wooing the crowds, to complete the whole retro experience. You'll feel like you've walked onto the set of Happy Days. Whether you want to whistle up coffee and donuts, or a crayfish burger, Bernie's Diner is a must-do. Bernard and his wife Shona also own and operate the historic Pier Hotel, a hospitality beacon since 1888. This waterside treasure gracing Wakatu Quay is just the spot to soak up the alpine and ocean views and that salt-tangy air. Reservations are essential for evening dining, given its popularity. They celebrate land and sea, so whether you're after locally sourced crayfish, beef or lamb, you'll love their menu. And its exceptionally good value.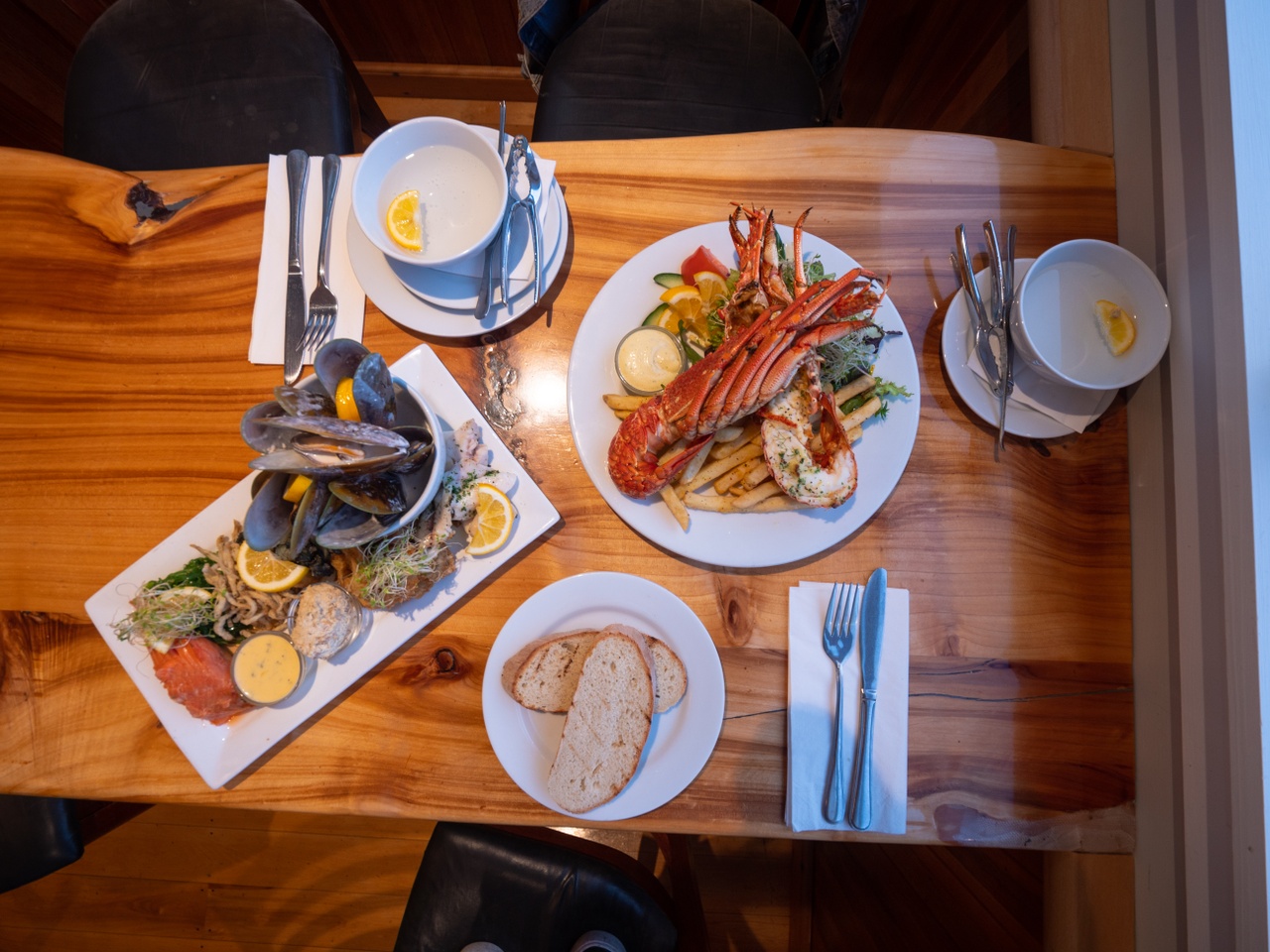 Seafood meal at the Pier Hotel. (Photo / Destination Kaikoura)
Also worth adding to your check-list, try a steak Sammie at the very new café, Flo & Co. If you're up for Seafood Chowder for lunch, you can't beat the bowl of goodness served up at Café Encounter, and if you want to get hands on with a cooking class, complete with foraging Hapuku Kitchen offer a variety of outstanding classes, regardless of your culinary skills. While in town, be sure to stake out a homegrown bubbly, Esses Lady Syme Vintage Brut Cuvee. Produced in the French Methode Traditionnelle style, all Esses cuvees are hand harvested and gently whole bunch pressed. It's a sparkling wine that will instantly seduce you – much like Kaikōura itself. www.esseswine.com
If you're quick, get your fill of Crayfest which is in full swing until November 14. The rolling menu of events and festivities is a lavish salute to Kaikōura namesake kaimoana, the crayfish. Over 30 local hospo businesses are providing a delectable array of crayfish dish specials, to satisfy all tastes and wallets. Rip into those crayfish pies or pizzas. Enjoy crayfish from a lofty mountaintop or how about getting a crayfish tattoo?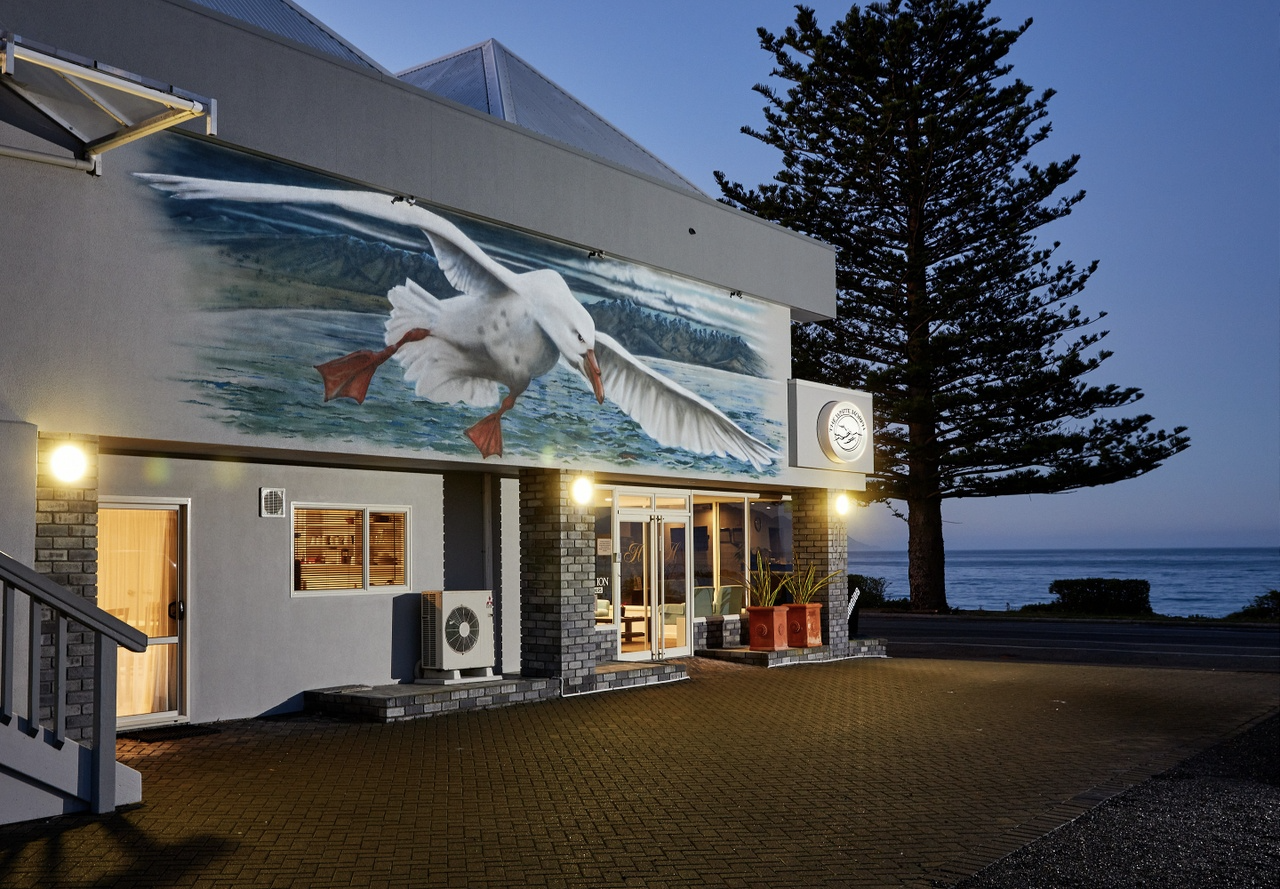 White Morph Hotel. (Photo / Destination Kaikoura)
You'll absolutely fall in love with the Heritage Collection White Morph Hotel. Gracing the Esplanade, right across the road from that lavish sweep of Norfolk Pines, you've got a ringside seat on a sunrise to die for across the sparkling ocean. The Mayfair is right next door and the main street shops and eateries are just ten minutes' walk away. It's affordable luxury accommodation, fully equipped with all of the creature comforts. You've got a variety of accommodation choices to choose from, whether you want a studio or self-contained apartment. The family apartments sleep up to 6 people.  All rooms are equipped with 50+ SKY channels, heat pump/air con, Google smart clocks/radios and fabulous Pacifics toiletries with the insatiable Pina Colada fragrance. 
I recommend bagging a premium oceanfront studio for the complete experience, which comes with extra trimmings like a very spacious hydrotherapy spa bath, large smart TV and a private balcony, to watch the world go by. There's also an E-Bike available for hire. It's a winning establishment. Draping the southern side of the building is a giant mural of Petrel sea gull. It's majestic and was crafted by Bill Scott. Born in Waimate, Bill is a self-taught artist he works in a variety of mediums and scales. His larger works reflect local interest topics and identities countrywide and are painted using acrylics. For his smaller works, portraiture, landscapes he paints with oils and watercolours. It's a mesmerising mural that encapsulates the spirit of Kaikōura. Spread your wings! https://www.heritagehotels.co.nz/the-white-morph
Aerial view of the Kaikoura Coast Highway. (Photo / Destination Kaikoura)
Backdropped by the splendour of snow-cloaked mountains rising up from the glittering coastline, discover the majestic marine life, the seafood and nature's close embrace in the elemental brilliance of Kaikōura. https://www.kaikoura.co.nz/
Mike Yardley is our resident traveller on Jack Tame Saturday Mornings.