Mike Yardley: Gems aplenty in Canberra
Author

Section

Publish Date

Sunday, 26 August 2018, 9:42AM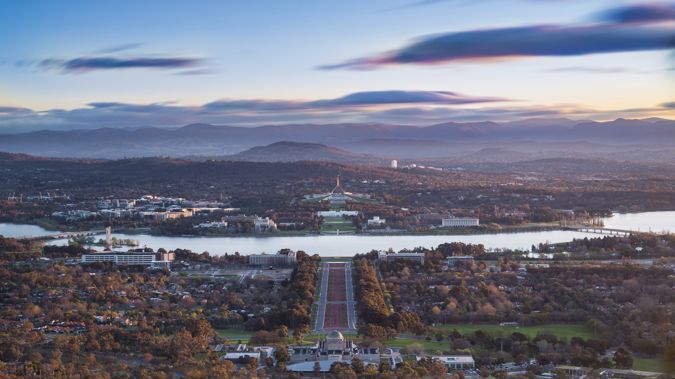 It's the view that inspired the creation of Australia's capital city. Ablaze in spring sunshine, I was atop Mount Ainslie taking in the wide-angle panorama that is steeped in Canberra's design conception. Canberra was my first stop road-tripping the Sydney to Melbourne Heritage Drive, a characterful inland touring route that is billed as the road to national discovery. On previous visits to Canberra, I've admittedly felt underwhelmed, particularly after Sydney's swank and Melbourne's buzz. But I was determined to give Canberra another crack with my eyes wide open.
Standing on the summit of Mount Ainslie, marvelling at how the city is cradled by wrap-around bush, I was fascinated to learn that the viewpoint played a critical role in Walter Burley Griffin winning the global competition to design the federal capital in 1912. His artistically gifted wife, Marion, was handy with the paintbrush and captured the quintessence of the Australian landscape in striking water colours, infused with sepia, gold and luminescent tones. Her renderings spectacularly illustrated the panorama, entwined with her husband's grand geometrical plans with radial avenues forming major axes and vistas.
He envisaged Canberra as a theatrical whole, "an irregular amphitheatre" as he called it, where the perimeter mountains form the top galleries, the hillside slopes and man-made lake represent the auditorium, while the Molonglo basin serve as the city's central stage. Remarkably, the Griffins' had never visited in Australia. Chicago natives, they were both esteemed members of Frank Lloyd Wright's renowned Prairie School of Architecture.
Canberra's harshest critics deride its artificiality, modernist architecture and bureaucratic heft. Yes, it's a wedding-cake city studded with monuments, acres of soulless and functional buildings to house the nation's civil servants, and a few shameless imitations like Geneva's Jet d'Eau, recast as the Captain Cook Memorial Fountain. Parliament wasn't sitting while I was in town, so I didn't get a chance to see the shambolic political scene in action – or who was Prime Minister that week.
But before hitting the official sights, I jumped in the car and had a great snoop around the thick cluster of embassies, just east of Parliament. Dozens of foreign outposts stud Embassy Row like an architectural beauty contest, most sporting their nation's trademark design elements with eager pride, although the New Zealand High Commission is a notable disgrace. A brutalist visual atrocity, resembling a relic from Soviet-era Romania.
Located on the shores of Lake Burley Griffin, the National Museum of Australia brims with treasures, treats and trinkets. Constructed at the turn of the century, the museum freely admits it took its style and design cue from Te Papa, inspired by Wellington's unswerving focus on story-telling, and on being engaging and accessible for the mass-market – not stuffy or elitist. A great option for newcomers is to take a guided Highlights Tour, which is a one-hour romp, offering an excellent introduction to the museum's galleries and some of the unexpected finds. Star-turns for me included the First Australians gallery, the Holden prototype from 1946 and Azaria Chamberlain's black dress.
This dress prompted speculation that Lindy always dressed her baby in black, an 'unnatural' colour for a child. The entire Chamberlain collection, while controversial, is evocatively compelling. But I was particularly excited to clap eyes on Phar lap's heart, 1.5 times heavier than the average horse's heart. It's enormous. Testing on the heart indeed confirmed that he had been poisoned with arsenic, prior to his death in the United States. The legendary heart is the most requested object visitors to the museum want to see.
Outside, don't miss Garden of Australian Dreams in the central courtyard, a symbolic landscape where each footstep is the equivalent of travelling 100 kilometres across the Australian heartland.
Like the national museum, the Australian War Memorial is also free to enter. It remains my runaway favourite Canberra experience. Australia's armed forces are honoured at this shrine, which also boasts a profoundly moving museum. As the centenary of the First World War armistice approaches, the WWI galleries vividly illustrate the enormity of the sacrifice.
The focus on Gallipoli, with magnificently crafted dioramas, resonates equally with Kiwis. WWII and all recent conflicts are duly recognised with dignity and aplomb. After paying my respects in the Hall of Memory and gazing across the Pool of Reflection to the Eternal Flame, the poignant strains of the Last Post filled the air. This moving ceremony is performed every day at 4.55pm, just before closure. For a complete change of scenery, I checked out some of the buzzy, trending precincts that are reshaping Canberra's reputation and surely helped elevate the capital into Lonely Planet's winner's circle. The global travel brand has rated Canberra as one of the world's Top 10 cities to see in 2018.
NewActon is a revelation, a flourishing precinct stamping its own identity through sustainable design, traffic-stopping outdoor art, luxury apartment living and headline dining. Underpinned by incredible architectural statements, the award-winning Nishi building, thickly draped in vertical gardens or living walls, is a masterpiece. It's home to Ovolo Hotel and one of Australia's most instagrammed staircases and ceilings. Showered with global design awards, the Grand Stair comprises several thousand exposed steel rods anchoring several thousand pieces of reclaimed wood. It creates the sensation of horizontal "flying" wood, as if an old sailing ship has blown itself apart around you.
Nestled on the city centre's edge, Braddon has emerged as a hotbed for contemporary cool fashion, edgy retail and funky dining on Lonsdale Street. Sweet-tooth? Don't miss Frugii Dessert Laboratory is a lip-smacking journey into ice-cream alchemy and its many wondrous flavour sensations, under the command of John Marshall. Across in Manuka, Patissez is another head-turner for its calorie-busting FreakShakes, extreme dairy concoctions which are like a cross between a milkshake and a chocolate sundae, wickedly dressed in delicious trimmings.
Just minutes from Canberra Airport, on the semi-rural fringe of the city, I enjoyed a relaxed lunch at the supremely picturesque Pialligo Estate. This incredibly industrious estate incorporates an olive grove, vineyard, orchard and market garden, alongside its smokehouse. You could not wish for a more triumphant execution of provenance, with snap-fresh, locally grown and sourced seasonal produce powering proceedings. Just 10 minutes' drive from the city centre, Pialligo Estate is a compelling proposition. www.visitcanberra.com.a
Situated between the vibrant hubs of Kingston and Manuka, I stayed at the bubbly and convivial East Hotel. Offering the perfect blend of designer cool, comfort and top-notch customer service, this arty apartment-style hotel has fostered a solid reputation for its distinctive hospitality, style and substance. For more road-tripping ideas on the Sydney to Melbourne Heritage Drive, jump to www.sydneymelbournetouring.com.au
Mike Yardley is our Travel Correspondent on Jack Tame Saturday Mornings.