The Next Cool Thing You Definitely Don't Need
Author

Publish Date

Tue, 6 Jul 2021, 1:01PM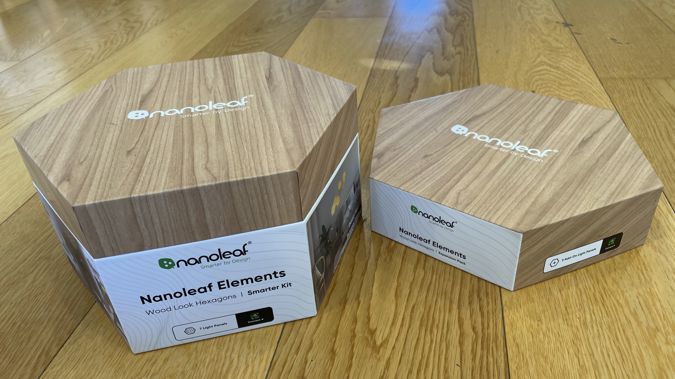 The Next Cool Thing You Definitely Don't Need
Author

Publish Date

Tue, 6 Jul 2021, 1:01PM
How's your smart lighting game? 
We've quickly reached the point where the options have become literally limitless. You can now light any area of your home any colour you like at any brightness. You can light different rooms and spaces different colours. You can schedule all those lights to do all those things at a time of your choosing. You can even create lighting routines that launch automatically based on things like when you walk in the room or when you leave the house.
Pretty crazy.
So you may as well have some lights that don't even look like lights...

If you've read any of my reviews about other Nanoleaf lighting products, you'll know they're capable of all that smart stuff I just mentioned and even more.
However, up until now, they haven't exactly been designed to coordinate with your decor. In fact, the shapes, hexagons and triangles I've tried are more like something off the set of Star Trek - starkly white when not in use and often prompting visitors to ask something like, "What the hell is that?"
The Elements Wood Look Hexagons tone things down a little.
As the name clearly describes, while these particular Nanoleaf Elements are the same size and shape as the original hexagons, they now sport a tasteful, woodgrain veneer - similar in tone to that found on a lot of office furniture.
That tone changes, of course, the moment you assemble your hexagons and power them up. This is done using the supplied snap-in connectors. Again, unlike the original white ones, these are a kind of burnt yellow, as is the rear plastic of the light panels themselves.
I won't go into too many details regarding setup and installation, as this process is pretty much identical to what I've outlined in my previous reviews. However, I will point out this time round I used Apple's Home app to initialise my Hexagons and it was probably my smoothest setup yet - even more efficient than using the Nanoleaf app itself. Using these shapes as a HomeKit device, you can sync your settings between the two apps and from that point, the Hexagons can be controlled from any Apple device on your network - including the recently launched HomePod mini smart speaker. Yes, you can turn them on and off, change the brightness and select your favourite scenes just by asking Siri to do it for you.
Of course, Google Assistant and Amazon Alexa can talk to the Hexagons too but as a recent (and very late) Apple adopter, what I'm quickly learning is a lot of things were designed to work with the Apple ecosystem first, then ported across to the rest later. This tends to mean a far more streamlined and efficient experience.
The other advantage of using the Wood Look Hexagons in conjunction with one or more HomePod minis, is they're both Thread enabled. This is a new kind of low-energy wireless networking technology that gets stronger and more efficient the more devices you add to it, helping to ensure commands are carried out reliably and most importantly, with no delay.
The mounting system has remained unchanged from the last Nanoleaf light panels I tried - a combination of double-sided adhesive pads attached to a central, click-on mounting plate for each panel. I've found this to be easy to do and very secure - although you might want to think long and hard about sticking these things onto wallpaper. In my experience, the adhesive mounting strips supplied, while theoretically removable, won't give up without a fight and I now have a couple of suspicious-looking bulges on my wall where the wallpaper got a little stretched when I took some panels down. (Don't tell the boss. Maybe she won't notice)
Or, if you're really sure of yourself, you can just screw them on instead. Using the Nanoleaf app, you can put your design up on the wall virtually, so who knows - maybe you will be brave enough to get the drill out after all?
But back to what makes these particular panels unique; their woodness. Now, make no mistake; they're not wood, they just look a bit like it. I found it fun that there's an obvious grain showing so you can choose to match that across your whole design or take a more random approach.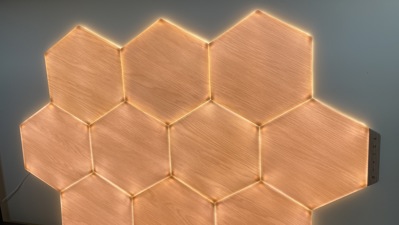 Interestingly, there are no different colour options when using the Wood Look Hexagons - you can only adjust brightness and warmth. That being said, I've been surprised how much scope that still gives you when it comes to deciding on your preferences. I've installed my panels on the wall behind my desk and my favourite scene is a preset already available on the app which turns panels on, off and adjusts the brightness to provide a flickering fireside effect. This creates a surprisingly convincing illusion of cosiness - even though the panels don't put out any actual heat at all. It's pretty clever.
You can also use the Circadian setting to have the panels brighten and soften according to how much daylight is about.
The control panel comes in the same, wood-look finish and lets you perform a lot of the aforementioned functions manually. As mentioned in previous reviews, the panels themselves can also be set up as touch controllers - to be customised to your preference. Certain taps and swipes can power on or off, or change the brightness and scenes.
Some of this stuff is new, some not so much. One thing I was very pleased to note is these new panels light up almost right to the very corners (yes, all six of them) whereas previous Elements and Shapes had obvious dim crescents at every point, which always diluted the effect a little for me. This is a welcome enhancement, especially given most of the features I've outlined here I've seen before. The power cable is now a very classy, braided material - still white to stay relatively incognito on most modern walls.
The real question is, how much are you prepared to pay for something that serves no useful purpose whatsoever? Right now you can pre-order the Wood Look Smarter Kit for RRP $429.99NZD. I'm sorry... but that seems pretty steep for a box of nine lighting panels - no matter how smart they are. Unless... you consider them to be a work of art. Then it's all in the eye of the beholder, isn't it?
Click here for more information and pricing on the Nanoleaf Elements Wood Look Hexagons.