Take Full Control... of Everything
Author

Publish Date

Thu, 6 May 2021, 8:12AM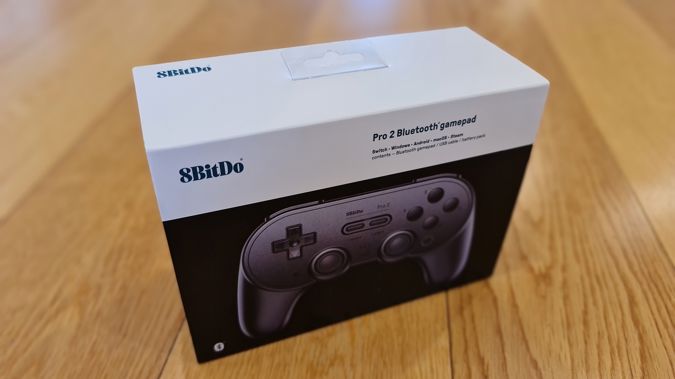 Take Full Control... of Everything
Author

Publish Date

Thu, 6 May 2021, 8:12AM
Have I mentioned how I'm not a gamer?
Somewhere in a parallel universe I am. In that universe I have no responsibilities or commitments and hours of free time to hone my skills, collect rewards and level up.
Back here in this world I get up in the middle of the night to go to work in breakfast radio and if I get any free time during the day I use it to sleep.
So when I get to review some kind gaming accessory, I really have to apply myself. I have to be disciplined. I have to make sure I put aside a few hours to sit down and focus. On playing games.
So let's not waste time swapping controllers...

8BitDo is one of those companies I confess I'd never heard of until I was asked to review their latest gadget, the Pro 2 controller.
I don't feel too ignorant, as I've asked some of the more experienced gamers I know if they knew of 8BitDo and they all said they didn't either.
However... when they looked them up, I definitely got their attention.
It seems 8BitDo has a bigger reputation internationally as the go-to, third-party controller manufacturer and its new one, the Pro 2, certainly ticks a lot of boxes.
For starters you can use the Pro 2 with PC, macOS, Android or Nintendo Switch - and that doesn't mean pairing, unpairing and pairing again every time you swap devices. There's a selector underneath that means you can instantly jump from one platform to the next. If I was going to be super niggly, I'd complain this switch is kind of small and fiddly - especially if you don't have good fingernails - but I'm not going to complain because it's definitely better to have this feature than not at all.
Conversely, the rest of the Pro 2 is set out brilliantly. It seems built for adult hands, slightly wider and with longer handgrips than some other controllers. Nothing feels cramped and the joysticks and triggers all have plenty of travel. And man, oh man, are there plenty of buttons. Not just a robust-feeling, springy D-pad on the left and an Xbox-style X/Y/A/B array on the right, a pair of front bumpers and a pair of triggers but also a star button for assigning Turbo functionality and then two more secret buttons (P1 and P2), nestled conveniently under your middle fingers when you're holding the device.
Virtually everything is mappable.
This is done through 8BitDo's Ultimate Software app which can be downloaded to your PC, Mac or phone. Oddly, the Pro 2 needs to be connected to your computer via its included USB cable for programming which is weird because that's not required for the Android version. Oh well. Whatevs. The important thing is you can customise everything - flip all the controls if you want - even adjust how far you need to push the joysticks or triggers for 100% effect. You can also alter vibration intensity and program macros for particular button combinations - often required during hand-to-hand combat for example. This is where those extra P1 and P2 buttons come in very handy (pun intended) as you can assign your macro to one of them, giving you a distinct advantage over your opponents. 
You can also save your modified settings to one of three profiles, which you can quickly toggle through using the dedicated button between the two joysticks. (That's three profiles for each platform, by the way)
The Pro 2's versatility stretches to charging too - it comes with a replaceable twenty-hour rechargeable battery cell. Twenty hours is great - but even if that's not enough, not to worry, you can continue playing while charging. In fact, you don't have to use the Pro 2 wirelessly at all - it works connected via USB-C to either your computer or phone. What's even more convenient is you can swap out the rechargeable cell for two conventional AA batteries instead. Talk about non-stop gaming.
Look, this is way more controller than an amateur noob like me could possibly ever need. I get lost playing Yakuza: Like a Dragon. I repeatedly drown as Sonic on my phone. And I can't complete a single lap of Dirt 5 without clipping at least one wall. But I love the way the controller vibrates when I hit that wall and Sonic is infinitely more fun using a joystick rather than swiping and tapping the screen.
I definitely get how customised macros would be a massive advantage in FPS and other fighting games - not for me but for players who actually know what they're doing. 
I was a little disappointed to discover the Pro 2 won't control everything on Android... Call of Duty just one big title it doesn't work for.
It would also be amazing to use it for your Xbox games via Cloud gaming using Game Pass on Android - unfortunately New Zealand isn't yet on the list of countries where that service is available. I'm not blaming 8BitDo for that, of course, It's just a general moan.
Compared with other controllers with similar functionality, the Pro 2's $99.95 price tag seems like great value for all the features it brings to the table - and it comes in a choice of three colours.
It's comfortable to use, it's easy to set up, customise and upgrade and has excellent battery life. Even better, having specific hardware options to instantly change saved profiles, swap platforms and extra programmable buttons makes the Pro 2 an easy choice.
Click here for more information on the 8BitDo Pro 2 controller.