MID-SIZE SCREEN. GREAT BIG SOUND
Author

Publish Date

Wed, 11 Mar 2020, 5:39AM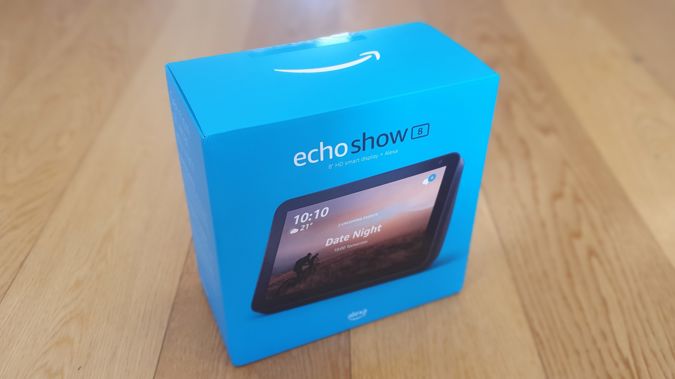 MID-SIZE SCREEN. GREAT BIG SOUND
Author

Publish Date

Wed, 11 Mar 2020, 5:39AM
FOMO.

That's basically why I review gadgets. I can't stand the thought of missing out on the very latest technology... even when it might be something I don't need or didn't even really know existed.

But sometimes it makes sense to do a bit of future-proofing. Although you might not need something now, there's no harm having it ready to go for when everybody else catches up.

Amazon is sort of here in New Zealand, but not really. But when it does land, oh boy - have I got the device for you...

There's no denying the Amazon Echo Show 8 is basically just the middle-sized member of the Echo Show family. We've already seen the original ten-inch Show, the more bedside table-friendly five-inch Echo Show 5, now we have an eight-inch display. So is it, to quote Goldilocks, "Just right?"

Now, just because it's not that different to the other models, that's no reason not to buy one - especially if you don't have any Echo Show yet. Let me just quickly remind you what's so cool about all the Echo Shows...

Firstly, these are great looking devices. The footprint is really only as big as the display, with the speakers tucked discretely away in the back section of the wedge. That back section is covered in a pleasant two-tone fabric and the rubberised base ensures the Show stays put, even on slippery benchtops.

Alexa is pretty clever. I'm not sure if she's still the most intuitive virtual assistant around but she's certainly on top when it comes to controlling enabled smart devices like security cameras, plugs and the like. The big advantage with the Echo Show range is you can "see who you're talking to," so to speak. You can see what song's playing, you can view security or door-cams live and you can show the day's calendar and weather forecasts.

As smart as smart speakers can be, for some ancient reason, there's still something more reassuring about receiving a visual response to your spoken commands, even when those commands are to play music.

Like all Amazon speakers, via the Alexa app you can designate one of a variety of streaming services to be your default player; Spotify, iHeart Radio or of course, Amazon Music. Unfortunately, the video side of the equation is decidedly more restricted. Amazon Prime Video is really your only option here in New Zealand - not that there isn't some great content on that service. It would just be nice to have access to all the content so you can really put that screen to use.

The Echo Show 8 will play video from Vimeo and Daily Motion though. So when you ask Alexa to show you a recipe for fish tacos, that's where she'll get it from. Just a bit of a shame we can't get a bit more YouTube or Netflix action happening.

Another fun video trick to try is Dropping In. If you have two or more Echo Shows connected to the same network, you can ask Alexa to "Drop In" on another room. This allows you to video chat directly with anyone in that room - a high quality video intercom connecting your home or your workplace.
Amazon has recognised some people have fears around privacy, either founded or not. As a result, the Echo Show 8 includes a physical slide, to shutter the camera off if you don't want to use it. There's also the usual mute button for the microphone if you don't want Alexa listening out for your commands. Trouble is, then she can't listen out for your commands.

Which she does well enough, although I've found the far-field mic array on the Echo Show 8 is not quite as sensitive as the Echo Studio for example. Certainly if you have music playing loudly, there's usually a bit of shouting involved to get Alexa's attention.

But that might just be because you can play your music nice and loud. Of all the Amazon speakers I've tried, the sound quality from the Show 8 is second only to the Echo Studio - which is certainly impressive given its relatively small size. Without going into too much detail about cone size and wattage, rest assured the Show 8 can blast out a rich, room-filling signal with plenty of warm bass tones, all of which can be EQ'ed via the Alexa app.

To be honest, if I didn't already have a smart display/speaker, this would be the one I'd probably consider first. While it doesn't occupy too much shelf space, the screen is big enough to show off your photos and to display video from a reasonable distance away. The sound is really first rate and of course, all the Alexa functionality is built in, raring to go.


Click here for more information and pricing on the Amazon Echo Show 8.