SOL3 MIO – CHRISTMAS AND SUMMER 2017/18
Section

Publish Date

Friday, 13 October 2017, 12:34PM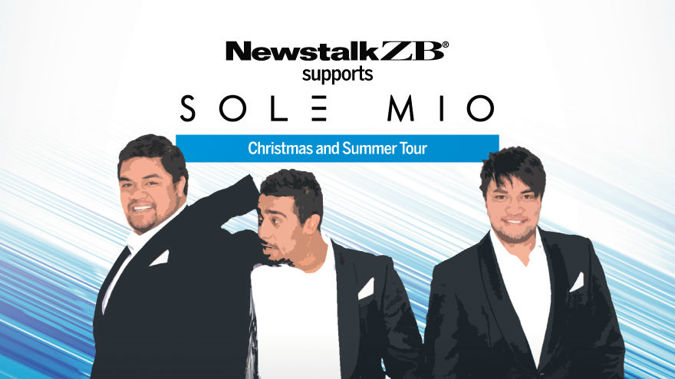 Sol3 Mio is extending the traditional end of year concert season, with a seven-date outdoor tour in December 2017 and January 2018, celebrating Christmas and the beloved kiwi summer.
In the first section of the tour, Pene, Amitai and Moses will bring their annual pre-Christmas festivities to Auckland, as well as a new stop in Havelock North. The boys will perform their signature mix of opera arias, traditional songs, a selection of hits from their albums, and everyone's favourite Christmas carols in stunning outdoor venues. Christmas On The Harbour will return to Wellington's Waitangi Park. The Christchurch show will move to the heart of the city, with Hagley Park hosting Christmas In The City for the first time. That will be followed by two Christmas In The Vines shows, the first at Black Barn Vineyard in Havelock North, and the second just two days before Christmas Day at the venue that kicked off the annual tradition in 2015 - Auckland's Villa Maria.
After a short break celebrating Christmas with their families, Sol3 Mio will throw on their shorts and jandals, and head to the beaches and holiday hotspots. The Summer Series will showcase the hits along with a hot summer's worth of material and will stop in three more glorious outdoor venues: Kainui Road Vineyard in Kerikeri; Williamson Park in Whangamata; and Wharepai Domain in Tauranga.
Promising the unique, iconic and musically top shelf live show that has seen them pack in the crowds across their five year career, Sol3 Mio can't wait to get back on stage in front of their home fans, in the warmth of a kiwi summer.
Moses MacKay says of the Christmas/Summer tour; "Playing these annual summer shows is the highlight of our year, and each year it gets better and better."
This tour will mark the first performances in 2017/18 for the trio, who have spent the majority of the last two years furthering their individual opera careers - with stunning success.  Tenor brothers Pene and Amitai Pati have been in the United States performing as Adler Fellows at the world renowned San Francisco Opera, while their Baritone cousin Moses Mackay worked on a variety of projects at home, including taking a lead role in Carmen as part of Napier's Festival of Opera.

The Christmas/Summer tour welcomes fans of all ages.  Families are encouraged to attend, with one child under the age of 12 admitted free to the General Admission Field section when accompanied by one General Admission Field ticket-holding parent or guardian.  All patrons of any age will require a ticket in the General Admission Seated area.
Tickets on sale now.
Christmas In The Vines - Havelock North     

Thu 21 Dec   Black Barn Vineyards                   

 
SOLD OUT