An evening with Dr Jane Goodall
Section

Publish Date

Thursday, 9 March 2017, 7:16PM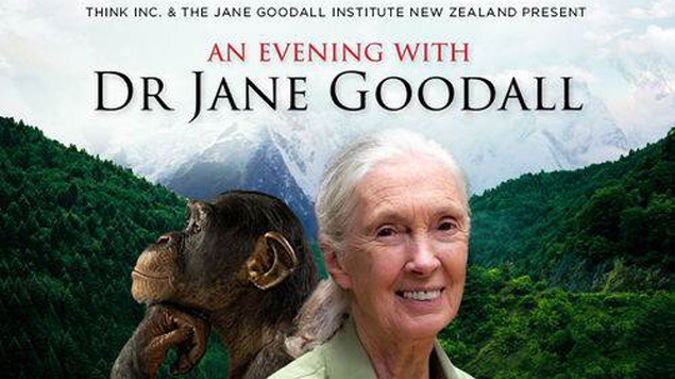 An evening with Dr Jane Goodall
Sunday 25th June, 6.30pm at Regent Theatre, Dunedin
Thursday 29th June, 6.30pm at Isaac Theatre Royal, Christchurch
Monday 26th June, 7pm Michael Fowler Centre, Wellington
Saturday 1st July, 6.30pm at the Logan Campbell Centre, Auckland
"Dr Jane Goodall, Ph.D., DBE, Founder of the Jane Goodall Institute and UN Messenger of Peace returns to New Zealand to discuss hope for the natural world in challenging times"
Think Inc. alongside the Jane Goodall Institute New Zealand, AUT and Loop are excited to announce the arrival of Dr Jane Goodall to New Zealand this year as part of the "Tomorrow & Beyond Tour". Dr Goodall will make four appearances across New Zealand – in Auckland, Wellington, Christchurch and Dunedin – to discuss hope for the natural world in challenging times.
When we ask ourselves "what separates us from other animals?" we question both our differences and our similarities – a challenge to which the famed ethologist Dr Jane Goodall has devoted her life. In 2017, Dr Goodall tours New Zealand to help us revisit this eminent yet elusive question and how we can all transform hope for our planet into action that is positively impactful for all.
Dr Jane Goodall transformed the way we think about animals through her ground-breaking work with primates. In 1960, in Gombe Tanzania, Goodall defied the scientific convention of the time as she documented, for the first time, not only complex personalities of chimpanzees, but the striking similarities they had to humans in terms of emotional and social complexity, the use of tools, and of experiencing war and peace.
On the strength of her research, Goodall is now a renowned environmental activist, founding the Jane Goodall Institute in 1977 to support ongoing wildlife research and advocate for the protection of natural habitats, with a particular focus on Africa. 26 years ago she also led the establishment of Roots & Shoots, now a global movement that empowers young people of all ages to design and implement sustainability action projects with positive impacts for animals, people and the environment.
Dr Goodall has penned 26 books and her tireless activism has yielded numerous awards, medals and honorary doctorate degrees throughout the last four decades. In 2004, she was titled Dame Commander of the Order of the British Empire.
Few names in the sciences have enjoyed the same degree of longevity, reverence, or impact. In 2017 Think Inc., along with the Jane Goodall Institute New Zealand, AUT and Loop, as part of the "Tomorrow & Beyond Tour" is honoured to host An Evening with Dr Jane Goodall.
Compelling, passionate and ever-insightful. An evening with Dr Jane Goodall is not to be missed.
The Jane Goodall Institute New Zealand (JGI NZ) was founded in 2014 and is a New Zealand non-profit and registered environmental organisation. JGI NZ's philosophy is centred on the interconnectedness of Animals, People and the Environment (APE) and its purpose is to "inspire actions that connect people with animals and our shared environment". Turning hope into action, thinking globally and acting locally.
Globally, JGI NZ's work promotes the conservation of chimpanzees and other great apes (as our closest living relatives in the animal kingdom) and, through our Roots & Shoots programme, JGI NZ offers NZ focussed, curriculum-based resources aimed at empowering the next generation to be socially and environmentally conscious citizens of our shared planet.
https://www.facebook.com/Jane.Goodall.Institute.NZ/
Proceeds from An Evening with Dr Jane Goodall will go to directly to supporting the work of Jane Goodall Institute New Zealand.
To book visit https://www.eventfinda.co.nz/2017/an-evening-with-dr-jane-goodall/auckland/epsom
For more visit https://www.thinkinc.org.au/events/goodallnz/