Nici Wickes: Quiche Lorraine
Author

Section

Publish Date

Saturday, 16 September 2017, 10:03AM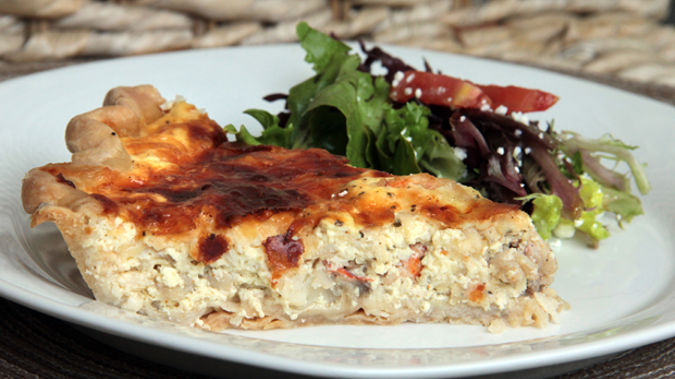 A great use for eggs and I always feel just a little sophisticated eating this French classic!
 2 sheets shortcrust pastry
Filling:
1 medium onion, diced fine
3 rashers bacon, diced
1 tbsp butter
¼ cup milk
½ cup cream
3 eggs, beaten lightly
Small handful parsley, finely chopped
75g cheddar cheese
Salt & pepper 
Preheat oven to 200 C and place oven tray to heat.
Roll out pastry and use to line a 20cm flan tin, leaving pastry to overhang. Chill for 30 minutes. Bang in oven and cook until beginning to go golden – about 12-15 minutes. Excess pastry will fall away.
While pastry is cooking, gently sauté onion and bacon in butter until onion softened. Whisk together milk, cream and eggs. Add sauteed ingredients, parsley, cheese and seasoning and mix. Pour into pastry shell.
Reduce oven temperature to 150 C. (remove those pastry bits that have dropped onto tray) Bake for 40 minutes or until middle 5cmn is just a little wobbly.
Remove and stand for 5-10 minutes to fully settle and set.
Serve with salad.