Nici Wickes: Deluxe sweet corn fritters
Section

Publish Date

Saturday, 28 January 2017, 8:56AM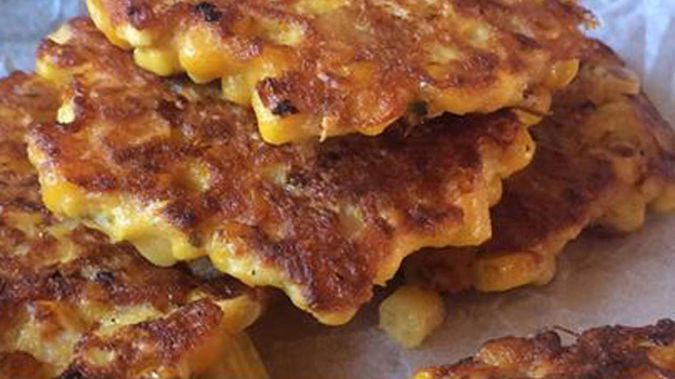 With sweet corn season in full swing, try these corn fritters made from fresh kernels and each fritter crammed full of flavour from chopped bacon and spring onions – they're delicious! 


3 cups raw corn kernels
3-4 rashers bacon, chopped & sautéed
2 spring onions, sliced & sautéed
1 egg, lightly beaten
2 tbsps gluten free flour (or use plain)
Pinch chilli flakes
½ tsp sea salt
Decent grind black pepper
Oil for shallow frying


Pour boiling water over kernels and leave to sit while you sauté bacon and spring onions.
Drain kernels and process 2 cups in a blender until creamy. Stir in remaining cup of whole kernels and all other ingredients, except oil.
Heat pan to medium and add oil.
Drop large spoonfuls of mixture gently into oil – they should sizzle immediately. Don't overcrowd pan. Cook until golden brown and cooked around edges then turn. Cook until firm in the centre. Drain on paper towels. Repeat with remaining mixture adding more oil to the pan as you go.
Serve with sauce of your choice – I like homemade plum sauce.


Also try:
Use ½ cup chopped raw prawns instead of bacon
For vegetarian fritters, use ½ cup peas or chopped green beans instead of bacon, add ½ tsp smoked paprika.
Serve with sourcream and guacamole for a meal.
In place of bacon, add 2 tbps pickled ginger or ½ tsp fresh grated ginger + ½ cup sliced green beans. Serve with Japanese mayo spiked with wasabi and some strips of toasted nori.
Use 1 tbsp finely chopped lemongrass instead of spring onions and 1 tbsp chopped fresh chilli instead of flakes.
Add 1 tsp each of cumin, coriander and garam masala powder to mixture, serve topped with thick plain yoghurt, lemon juice and fresh coriander leaves.