Gunman's weapons may have been modified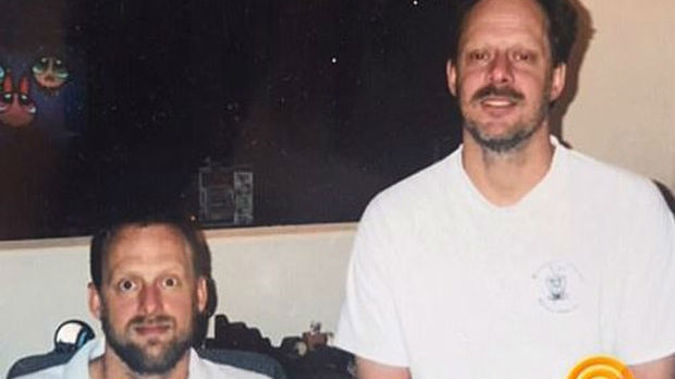 The gunman who fired on Las Vegas concertgoers might have used fully automatic weapons - or guns legally modified to act like them - that allowed him to spray bullets into the crowd of 22,000 people.

A US law enforcement official told Reuters authorities believed Stephen Paddock, 64, had at least two such weapons when he fired from his 32nd-floor hotel room, killing at least 59 people and injuring hundreds more.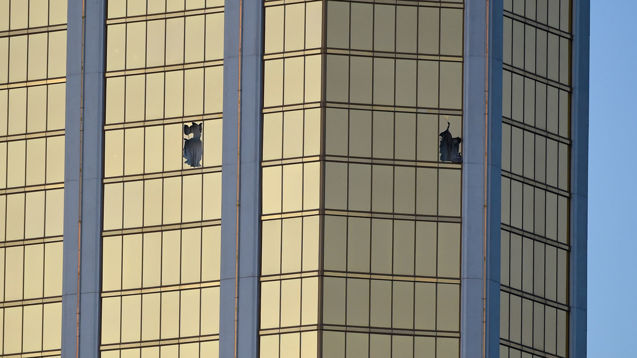 Broken windows are seen on the 32nd floor of the Mandalay Bay Resort and Casino (Getty)
The rat-a-tat sound of the gunfire on Sunday night prompted police to report the gunman was using an "automatic" weapon - a term often used to describe a fully automatic gun that can fire as many rounds as its magazine holds by pulling and holding the trigger.

Those weapons have been largely outlawed for three decades, though Paddock could also have used legal or illegal means to alter semi-automatic rifles, which fire a round every time the trigger is pulled.

Police said they recovered 42 weapons belonging to Paddock, including 23 from the hotel room and 19 at his home in Mesquite.

Some were automatic weapons or semi-automatic rifles illegally modified into fully automatic weapons.

It was not clear when or how Paddock obtained the guns.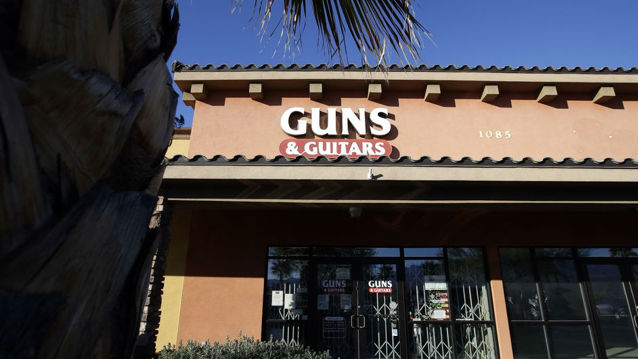 The Guns and Guitars store is shown in Mesquite, Nevada. General manager Christopher Sullivan said Stephen Craig Paddock showed no signs of being unfit to buy weapons. (Photo / AP)
The US has about 176,000 pre-1986 machine guns that canbe legally transferred.
There are also legal products that can allow semi-automatic rifles to fire hundreds of rounds a minute.

A "bump stock", for example, replaces a semi-automatic rifle's stock, which rests against the shoulder.

It causes the gun's recoil to press against the shooter's finger after each shot, firing rounds much more quickly than possible by pulling it manually.

Such devices are not outlawed because the trigger is still pulled for each round, even though the rate is faster than possible using only one's finger.