Medsafe seeking more information about Primodos' use in NZ
Author

Section

Publish Date

Tuesday, 21 March 2017, 6:44AM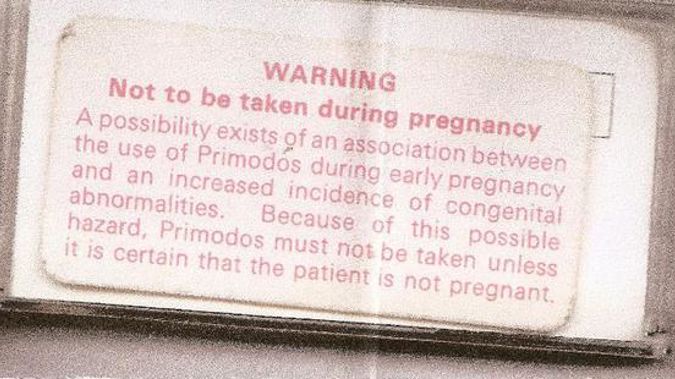 Medsafe is continuing to hunt for more information about just how widely a horror pregnancy test was used in New Zealand.
Primodos was given to more than a million expectant mothers in Britain in the 60s and 70s.
It contained super-strength hormones that were later used in the morning-after pill and there's evidence it may have caused miscarriages, still births and severe defects.
SEE ALSO: Pregnancy drug linked to birth defects was sold in NZ
After digging into our archives, Medsafe has found it appears to have been available here from 1966 till 1975.
However it has no information on how many women used it - and it's trying to get that data from drug company Bayer.
Primodos was withdrawn from sale here in 1975, which is when our Drug Assessment Advisory Committee received overseas reports that it caused birth defects.
It wasn't removed from the UK market until 1978.
Auckland University medical ethics expert Tim Dare said there may be no blame to be laid on our health authorities as long as the drug was available here on the basis of good evidence, was properly examined before being made available, and the New Zealand authorities "acted quickly once there was evidence that there was a problem".
"I wouldn't assume at this stage that there is any blame, due to the New Zealand medical authorities. They seem to [have] reacted quite quickly."
He said all that is yet to be investigated though.
Women's health advocates are also applauding the swift response by our health authorities to the Primodos revelations.
Acting Director of Women's Health Action, Isis McKay, said it's going to be difficult for Medsafe to establish the effects that Primodos had here.
"We're pleased to see that Medsafe has got on to this quite quickly, that they're working hard to ascertain where they can, because it's not going to be an easy task, to what extent the drug was used here."
Meanwhile, anyone concerned they may have been impacted by the drug in the 60s or 70s is being urged to reach out.
McKay is hoping women, and their adult children who might have been impacted, will come forward.
"To ask questions and help in the efforts to try and ascertain if we were affected by the use of this drug in New Zealand."