Port Hills: Firefighters now in battle against weather
Author

Section

Publish Date

Saturday, 18 February 2017, 6:42AM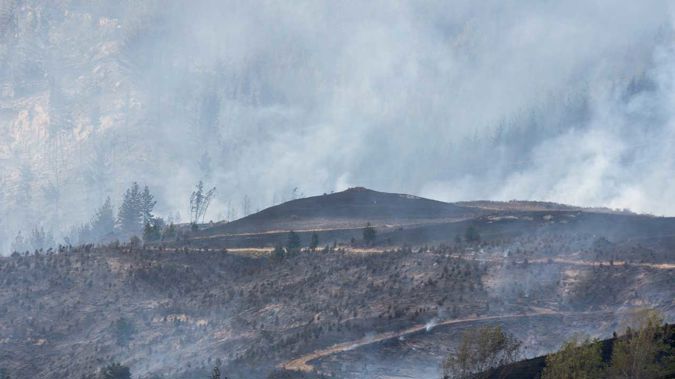 Firefighters are in a race against the weather this morning to control the fire still smouldering on Christchurch's Port Hills.
READ MORE: Port Hills fire becomes police investigation
MORE: Little: 'We've got to get NZ's emergency response coordination right'
The bulk of the scrub blaze has been dampened by fire crews and light rain, however by Monday, temperatures are expected to rise to close to 30 degrees, and the drizzle will be gone.
Incident controller Richard McNamara said the rain has made the terrain slippery and dangerous, so much so that teams were pulled out early yesterday, even with hot spots still burning deep underground.
"It's been very difficult to get crews and heavy machinery into and out of the fire zones, particularly in those forested areas under Sign of the Kiwi - those are the areas currently holding the most heat," he said.
"We're aware of that threat, and I know it doesn't feel like it now, but the fire could still get out and run."
"A lot of them could well be threatening those fire lines that we're trying desperately to put out,"
McNamara said the warmer weather will produce undesirable conditions, "which will then start sparking the fire up, putting the heat in the air with a low relative humidity."
"It'll start to crackle and pop and we'll end up getting fire runs."
Firefighters will also be tackling the blaze from the air, working to strengthen lines separating homes from the fire zone.
"It's been dug up, hit with water, applied with retardant, it's as safe as we can make it," Air support supervisor Carry Lakin said.
"In case there is any running fire, it will hit a really solid area of dead fuel."
A public meeting will be held today 10am in the South West Baptist Church Gymnasium on the corner of Lyttelton Street and Cobham Street.
People can call Christchurch City Council if they need more information.
The Civil Defence welfare centre at Te Hapua Halswell Centre will open from 10am to 4pm both today and tomorrow.
Yesterday the centre's focus shifted from providing on-site accommodation.
Now, anyone needing information or help finding other accommodation can go there.
Labour Party leader Andrew Little, who arrived in Christchurch late yesterday to be briefed on the damage, said it was too soon to be criticising the emergency response, which some people have done.
"We're better to look at all of this stuff and with the benefit of hindsight, a bit of distance of time," Little said.
"Let's actually finish fighting the fire and get things under control, get the experts on board, get them on the front line, then take a sober look at it."
Prime Minister Bill English declined his Australian counterpart Malcolm Turnbull's offer of help in fighting the fires.
The two national leaders are in Queenstown for diplomatic talks.
English said that while Turnbull's offer was a generous gesture, thankfully it's not needed.
"We've already well over a dozen aircraft flying around in quite a small space with swinging buckets and powerlines," he pointed out. "You want to be pretty careful about these things."