Kidnappers of Jindarat Prutsiriporn jailed
Author

Section

Publish Date

Monday, 18 September 2017, 12:23PM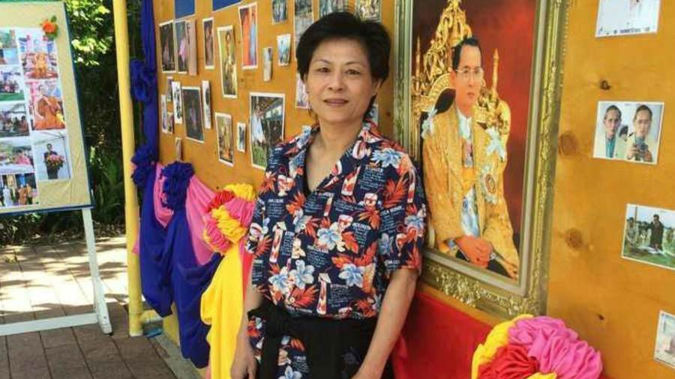 Six men have been jailed for the kidnapping and manslaughter of an Auckland woman who fell from the boot of a moving car.
Jindarat Prutsiriporn, 50, died in hospital two days after she hit her head on the road while trying to escape her kidnappers in Papatoetoe during March 1 last year.
READ MORE: Five found guilty over kidnapping of Jindarat Prutsiriporn
Eleven people were arrested following her death and six went to trial in May, facing manslaughter and kidnapping charges, the rest earlier pleading guilty to their parts.
Following two days of deliberations and 10-weeks of evidence, a High Cout jury found Seng Lek Liev, Apichart Korhomklang and Luigi Havea guilty of one charge of manslaughter and one of kidnapping each.
Tafito Masi Vaifale and Joseph Haurua were also found guilty of manslaughter. They had earlier pleaded guilty to kidnapping Prutsiriporn.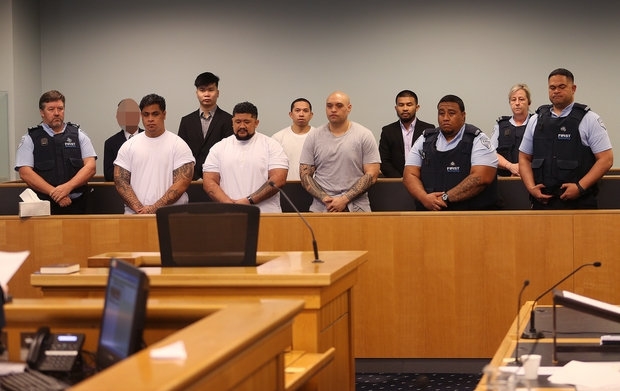 Pictured are defendants to the manslaughter of Jindarat Prutsiriporn at The Auckland High Court during sentencing. (Photo / Doug Sherring)
Tevita Fangupo was found not guilty of kidnapping by a majority jury verdict of 11 to one.
Sodarith Sao, who was not part of the trial, had also earlier pleaded guilty to kidnapping and manslaughter.
Sao and the five found guilty during the trial were sentenced today by Justice Matthew Palmer in the High Court at Auckland.
Justice Palmer said Liev was the architect of the kidnapping, which was carefully planned.
Liev had decided to kidnap former Napier woman Prutsiriporn and contacted the east chapter of the Head Hunters gang for help, the Crown said.
A group called the ghost unit was to carry out the job.
"They were Mr Liev's hired muscle," Crown Prosecutor Gareth Kayes said.
The ghost unit first tried to kidnap Prutsiriporn on February 15, 2016.
Members of the group had waited outside her Waterview house but were spooked by police nearby.
Then a few days later, on February 29, the ghost unit struck.
Prutsiriporn was lured into a ute under the guise of a drug deal.
Another car then quickly arrived and the crew bundled her into the back of it at about 9.30pm.
She was then held at several locations for 22 hours by the group.
Kayes said it will remain a mystery as to how long Liev intended to have Prutisirporn held.
Prutsiriporn was then moved to Haurua's house, where she was tied with a torn-up sheet.
But she began to struggle.
The ghost unit moved her again to Korhomklang's house in Mangere, where she spent much of the day in a garage.
At about 5pm she was loaded into another car boot - bound and tied.
However, while there she found a knife which she hid it down her trousers, she also found a chef's steel.
In her dramatic and ultimately fatal bid to escape, Prutsiriporn used the chef's steel to open the boot while the car stopped at traffic lights on Huia Rd, Papatoetoe.
She was thrown from the car as it sped off.
Found on the road by motorists, she was barely breathing and foaming at the mouth with ties around her neck, waist and ankles.
She died from her injuries in hospital two days later.
Prutsiriporn, a mother of three and known affectionately as Nui, had been involved in the criminal drugs world.
The Thai woman had served time for importing methamphetamine and was on active charges at the time of her death.
A family representative described her as a fun, kind, loud, cheerful woman, the court heard today.
Prutsiriporn's son now suffers nightmares and wakes during the night to check his house is secure and that his family is okay.
• Seng Lek Liev - 12 years and four months for manslaughter and kidnapping
• Aphichart Korhomklang - 10 years and eight months for manslaughter and kidnapping
• Luigi Havea - 10 years and three months for manslaughter and kidnapping
• Tafito Masi Vaifale - Seven years and 10 months for manslaughter and earlier pleading guilty to kidnapping
• Joseph Benjamin Haurua - Six years and six months for manslaughter and earlier pleading guilty to kidnapping
• Sodarith Sao - Nine years and four months for earlier pleading guilty to kidnapping and manslaughter.