NZ First delivers blunt message to business
Author

Section

Publish Date

Wednesday, 23 August 2017, 11:34AM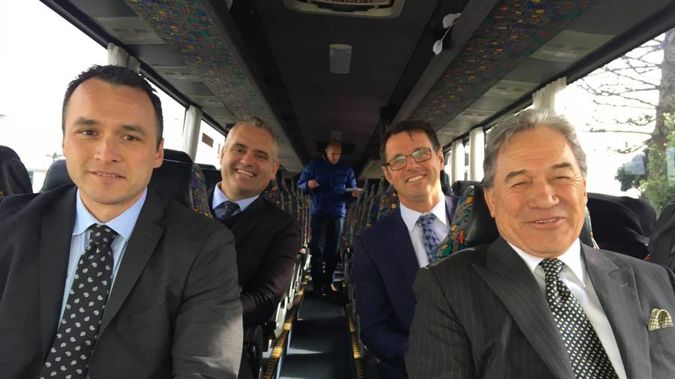 New Zealand First has delivered a blunt message to business - expect the party to play a larger role in economic policy.
With polls indicating NZ First will hold the balance of power after the election, the party's commerce spokesman Fletcher Tabuteau addressed the Deloitte-BusinessNZ election conference at Te Papa in Wellington today.
"I hope I have conveyed to you...that a New Zealand First Government would have a larger role to play in the economy."
Tabuteau said businesses knew headline growth figures were misleading and New Zealand was in a productivity recession which highlighted a lack of investment by "almost everyone in this room".
"Many of you, at least in private, have admitted your concern to me about the direction this country is going - the homeless and the poverty."
Later in a panel on resources, NZ First MP Richard Prosser said his party would bring electricity assets back to a simple state-owned, state-controlled umbrella.
"That means if you have shares in Contact [Energy] - get rid of them now."
Prime Minister Bill English was grilled on what role the party could play if it entered into coalition with National in the PM Job Interview with a panel of NZME journalists yesterday.
Asked if he could reassure the market he wouldn't let Winston Peters "anywhere near monetary policy", English said, "we certainly wouldn't want Mr Peters near monetary policy".
However, he would not rule Peters out as Finance Minister, only saying he would want Steven Joyce in that role and such decisions would depend on voters.
NZ First economic policy includes reforming the Reserve Bank Act, and creating an exchange rate regime to "serve New Zealand economic interests".
Tabuteau was part of a political panel that debated the economy at the Deloitte-BusinessNZ election conference, in front of an audience of business leaders, media and former politicians including Don Brash.
Other panelists included Finance Minister Steven Joyce, Labour's finance spokesman Grant Robertson, Green Party leader James Shaw, Act leader David Seymour and Geoff Simmons from The Opportunities Party (TOP).
It was held shortly before Treasury releases the Pre-election Economic and Fiscal Update (Prefu), which will determine how much spending the parties can promise.
• Steven Joyce
The Finance Minister told the audience New Zealand was heading in the right direction, and was in a privileged position compared with other countries.
"I was talking to the Australians the other night and they said, we would just love to have your fiscal position."
While not naming Labour, Joyce said there was debate about new taxes, changing wage bargaining and halving the supply of skilled workers - all policies that would work against small business.
"Our companies are growing...we just need to make sure we are working with our businesses to succeed...and not actually ankle-tap them here at home."
• Grant Robertson
Labour's finance spokesman fielded a question on how his party's policy to reduce net migration by about 20,000 to 30,000 might hurt businesses that relied on overseas workers.
He said Labour was committed to ensuring such businesses could still get the workers they needed, but wanted to train New Zealanders and reduce the number of international students studying low-value courses.
There was a huge strain on infrastructure at the moment, Robertson said.
He repeated leader Jacinda Ardern's recent statements that Labour wanted to renegotiate TPP 11, won't rule out a capital gains tax if in power next term, and can't rule out tax rate changes until after today's Prefu.
Labour's vision for the economy in two words was "shared prosperity", he said.
"While the high level indicators in the economy look good...wages aren't rising with inflation...We are in a productivity recession...GDP per capita in the last six months has been going backwards. In the end, relying on population growth or selling houses to one another is not a sustainable economic plan."
• James Shaw
The Green Party leader said if you scratch beneath the headline economic numbers, the picture isn't as rosy as portrayed by the Government.
Shaw said many people living in cars and garages or in a home with 16 have jobs, or even two jobs.
"Just having a job is not sufficient to get you out of policy."
The Greens, like Labour, will re-do their fiscal plan after today's opening of the Government books.
The party's core economic principle was to achieve a carbon neutral economy by 2050.
It wants to reduce the bottom income tax rate to 9 per cent, and introduce a new top tax rate of 40 per cent above $150,000.
• David Seymour
The Act leader said there was clearly room for much more substantial tax cuts than those outlined by National.
He warned against parties proposing to change the Reserve Bank's sole focus from fighting inflation as "tin foil hat" stuff.
Core problems were holding back New Zealand's economy, including a huge achievement gap in schools and a failure to build enough houses.
• Geoff Simmons
The Opportunities Party (TOP) deputy said New Zealand had been in a productivity malaise for the past 30 years, and reforming tax policy was a key part of addressing that.
The current tax policy works against business, Simmons said. TOP wants to impose a deemed minimum rate of tax on all assets including the family home, and that would raise enough money to cut income taxes substantially.
Taxing property was the "elephant in the room" that needed to be addressed to boost business productivity.
Simmons said it was embarrassing that the election represented an episode of The Bachelor, where Winston Peters held the roses.
He said TOP was prepared to work with both parties to provide stable, long-term economic policy.