Mike Yardley: Beavering around Ottawa
Author

Section

Publish Date

Monday, 18 September 2017, 1:54PM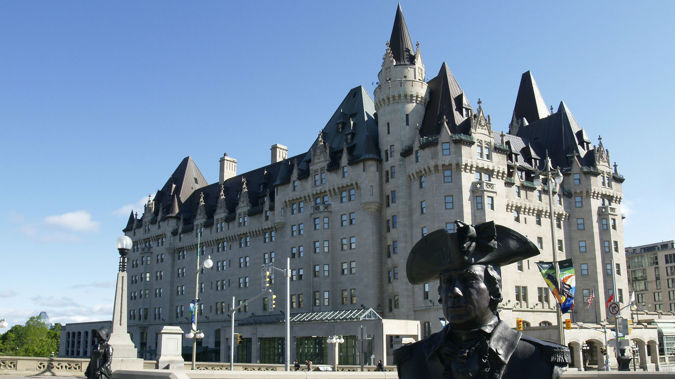 It's party time in Canada as the nation's year-long birthday bash rolls on. The French may have staked their claim nearly five hundred years ago, but Canada as we know it, is only 150 years old. And it's that celebration of the nation's Confederation that has further fired up the travel boom to Canada. Kiwis are part of that global love affair with Air New Zealand just announcing increased flights to Vancouver.
Out east, I've just enjoyed my first foray to the capital city of Ottawa. Similarly sized to Auckland's population, but a lot more compact, like all great capital cities, Ottawa is a wedding-cake city, studded with grand patriotic confections. But she's not a stuffy, stilted town, groaning under the weight of bureaucracy. She's incredibly photogenic, carpeted in green spaces, with a convivial and embracing spirit.
The inner-core of Ottawa boasts some strikingly distinctive neighbourhoods, like Wellington West, The Glebe and China Town. Wellington West is a foodie favourite, crammed with cafes, bakeries and specialty stores like Emulsify – a veritable trove of the world's best olive oils and balsamic vinegars.  If you find yourself in China Town, you must check out The Shang, a 45 year old institution, where the resident karaoke star, China Doll, is even more famous than their egg rolls.
The Glebe is another extra-lively pocket of Ottawa with some signature specialty stores. The 24 Hour Bagel Shop is revered by the locals, while feline fanatics get their fix at Cats R Us, the most bewildering feline-friendly boutique imaginable, stocking apparel, toys and catnip candy. Pussy galore!   But if you're a newbie to Ottawa like I was, you're first port of call should be at Justin Trudeau's joint, Parliament Hill.
The centre piece of Canada's seat of government is the gargantuan gothic-revival building called Centre Block. Not dissimilar in style to the Dunedin Railway Station, but on a much more flamboyant scale, the 1865 masterpiece is a show-stopper. Think gargoyles, copper-topped turrets and sweeping archways. The interior is equally as lavish in a Harry Potter kind of way. At the heart of the building is the soaring Peace Tower. 
You can see Canada's Prime Minister in action every day, when Parliament is sitting, in the House of Commons at Question Time. Admission is on a first-come, first-served basis, as are the free guided tours. You'll need a ticket for the tours, which are distributed across the street from the Hill Centre, daily from 9am.  Plus after dark, the sprawling façade of Centre Block transforms into a trippy canvas for the nightly sound-and-light show, trumpeting pure Canadian pride.
Like all good capitals, Ottawa is awash with museums, many of which are free to enter in birthday year. And the Canadian Museum of History has unveiled its new Canadian History Hall to mark the nation's milestone. If you're an Arctic buff, don't miss the new Canada Goose Arctic Gallery at the Museum of Nature. Two cores of real permafrost are included in this substantial showcase of the Arctic region, its diversity and undeniable global importance.
I'm a walkover for historic hotels and Ottawa boasts a star specimen in the Chateau Laurier. The toast of the town, this landmark property was built in French-gothic chateau style, by the Grand Trunk Railway Company, at the dawn of rail's golden age, over a century ago. The hotel was to scheduled open to much fanfare in late April 1912, but the railway boss, Charles Melville, died on the Titanic, en-route to the grand opening.
He never got to see the completed masterpiece he had commissioned. Over the decades, guests and staff claim to have seen his ghost walking through the hotel corridors. Whether you're staying in-house or not, the hotel allows you to wander through opulent marble hallways, admiring the art and soaking up the history.
Fairmont Chateau Laurier overlooks the Ottawa Locks, a sequence of steep, step-like locks that mark the northern end of the 200km long Rideau Canal.  Completed in 1832, it's the oldest continuously used canal in North America. The Duke of Wellington ordered its construction as a trusty military supply line between Ottawa and Kingston, fearful that the Americans were keen to conquer the British colony.
The canal never actually saw military service but it did prove useful as a shipping route. Today, it's a watery recreational paradise, which also doubles as the world's largest ice-skating rink, come winter. At the Ottawa end, 8km of the canal is transformed into a groomed ice rink, roughly the size of nearly 100 Olympic-sized ice hockey rinks. Food kiosks and skate hire stations are sprinkled all along the canal.
You'll definitely want to spend some time shopping and noshing at Byward Market, the city's venerable mercantile mecca, founded in the early 19th century. Local farmers continue to sell seasonal produce from its stalls, alongside local art and souvenirs. Hello maple syrup. The market also boasts some old-school cafes and bakeries, including Boulangerie Moulin de Provence.
Groaning with sugary and savoury delights, the bakery was hit with President Obama when he popped in several years ago. In his honour, an entire bay is dedicated to their Obama Cookies, which are a perennial hot-seller. But when in Ottawa, sweet treats don't get any better than downing a Beaver Tail. This signature dish is a sizzling slab of fried dough slathered in decadent toppings like gooey chocolate and cinnamon. They're disgustingly good.
A quirky Ottawa diversion is the vast underground nuclear bunker. Built during the Cold War, this vast subterranean chamber, spanning four floors, was designed to house the Prime Minister and the government brass, in the event of a nuclear attack. It could accommodate 300 people, alongside a fully functional radio studio and the Bank of Canada vault. Now transformed into a Cold War museum, it's packed with chilling insights into just how grave the risk of apocalypse was perceived, by Canadian officials.
Air New Zealand is increasing capacity on its Vancouver route. The airline will kick the increases off by moving from seven to eight weekly services during the first half of January, making it easier than ever for Kiwis to escape to the snow, with increased services during the shoulder periods too. With well-timed overnight flight departures, I managed to sleep my way across most of the Pacific. For best fares and seats to suit, head to www.airnewzealand.co.nz
 I locked in my Ottawa accommodation through Hotels.com, which was fast, efficient and packed with great deals. Hotels.com Rewards gives you one free night after 10 nights booked– which you can bank for future holidays. Rewards members and mobile app users also enjoy exclusive access to Secret Prices. I found the Hotels.com mobile app to be a simple, fast and secure way to book your perfect hotel, on the go.
Mike Yardley is Newstalk ZB's Travel Correspondent on Jack Tame Saturday Mornings.