Chris Lynch: Top Hong Kong attractions and luxury living
Author

Section

Publish Date

Monday, 21 August 2017, 10:12AM
1)  MAN MO TEMPLE, HONG KONG ISLAND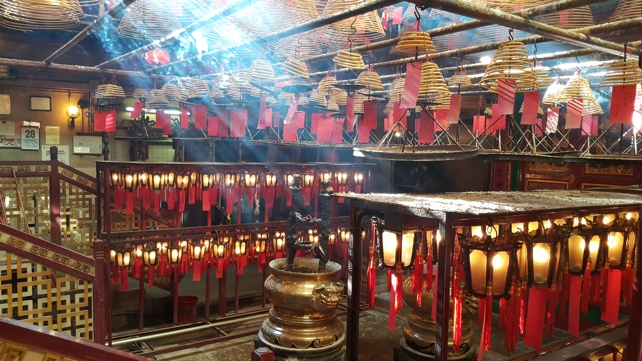 Man Mo Temple . (Photo \ Chris Lynch)
Before visiting Hong Kong, I was expecting a "westernised" city. In my experience, nothing could be further from the truth. If you're looking for a cultural experience, there are plenty of attractions to achieve this. On Hong Kong Island, there's the Man Mo Temple. It's the oldest temple in Hong Kong. The temple was built in 1847 and on any given day, you'll find locals praying in the entrance way and inside the temple, as well as tourists enjoying the peace and solitude. It's easy to find, as it's on the main 'hop on hop off' bus ride tour. Part of its magic is that it's a complete contrast from the bustling downtown area of Central Hong Kong, which is just a few minutes' walk. The smell of incense is overwhelming at first. But after a few minutes you'll get used to the smoky atmosphere and you'll soon feel relaxed. The temple doesn't look like much from the outside, but in this case, looks can be deceiving. It's rich in history and worth the visit.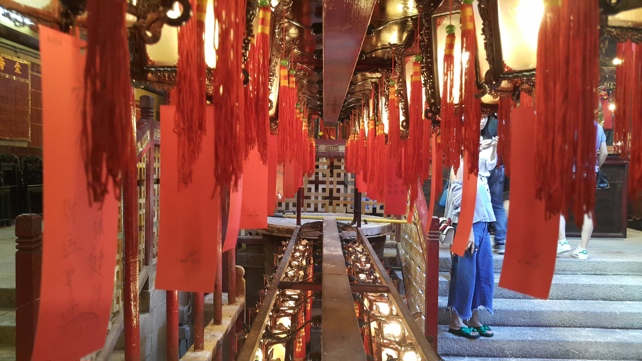 2) BIG BUS TOUR AND HARBOUR CRUISE
The best way to get your bearings in the city is by riding on one of the Big Bus Tour rides. The company offers several options to travel through Hong Kong Island and Kowloon day or night. There's a "get off and go service" if you want to visit attractions in your own time, at your own pace. It's worth buying the two-day Deluxe Ticket, as it does take some time to understand how to navigate the city. Once you've been on one of the double decker bus rides, you'll soon realise just how massive the city is and how much of a necessity the  underground MTR train system is for locals and tourists. The two-day ticket includes a one-hour boat cruise on Victoria Harbour. Make sure you've got plenty of battery life on your phone. This ride provides the best views for capturing Hong Kong's skyscrapers and Kowloon.
3) BIG BUDDHA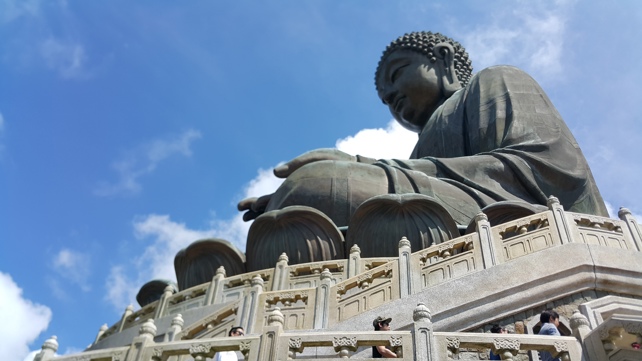 A visit to the remote Po Lin Monastery is a must-do day trip. It's become a popular attraction ever since the Tian Tan Buddha statue (known as the Big Buddha) was built in 1992. It sits 34 metres high and draws pilgrims from across Asia. It's set in lush mountains. Check the weather forecast before you leave, to ensure it's a clear day. The monastery located directly below the Big Buddha is just as fascinating. You can watch locals make large incense sticks which look like fireworks. Be sure to keep your travel bags close by your side and check loose clothing. Some of the incense don't emit much smoke, and I managed to burn holes in my shorts and camera bag.
4) NGONG PING 360

Getting to the Big Buddha is an attraction in its own right. The best way to reach the main village of Ngong Ping, near the statue, is by taking the cable car, known as Ngong Ping 360. You'll enjoy 360-degree views of the natural ecological environment and Ngong Ping area. The ride is a nearly 7km journey. It takes about 20 minutes and travels between Tung Chung Town Centre and Ngong Ping on Lantau Island.  As you approach Ngong Ping village, you'll be be greeted by stunning panoramic views of the Tian Tan Buddha Statue and the South China Sea. If you're not afraid of heights, upgrade to a crystal cabin, which has a see-through glass floor! 
5) DISNEYLAND HONG KONG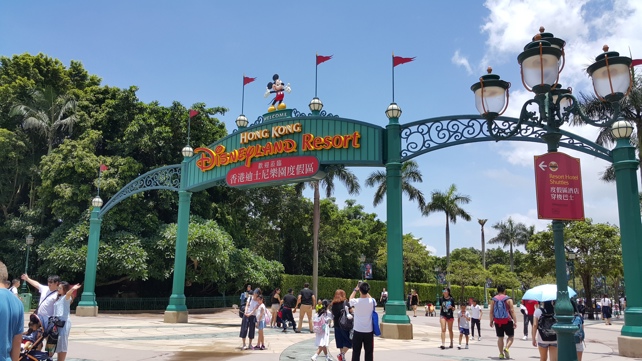 Disneyland Hong Kong is the smallest of the theme parks, but just as fun as its bigger counterpart.  Situated on Lantau Island, its set in a more scenic location than the park in Anaheim. Disneyland Hong Kong is surrounded by lush greenery and mountains. I visited on a very hot day. If you're not riding any attractions, prepare yourself with an umbrella, hat, water and sunscreen. There's not a lot of shade, and some of the waiting areas for rides aren't sheltered. People watching, and seeing the convergence of cultures is a great way to pass the time while in the long queues. Getting to Disneyland is hassle free. There's a train line that runs from main city stations to the park with just one transfer stop. A highlight was the night-time parade. Disney uses the most elaborate led costumes to illuminate its beloved characters. Some Disney parks require a couple of days to see all the attractions, but one day here should be enough.
LUXURY LIVING
If you follow my travel blogs, you'll realise I enjoy staying in luxurious hotels. I love the escape it brings, particularly given the intense 24/7 day a week news cycle I work in. I have travelled to several metropolitan cities, including Los Angeles, New York, Brasilia, Sydney, Las Vegas and was confident "sin city" provided the best hotels in the world.
But that was before I discovered Kerry Hotel in Kowloon, Hong Kong. This hotel has redefined luxury. I prefer city holidays instead of beach resorts, but enjoy the resort environment, which is why I like Kerry Hotel. It offers a resort atmosphere with luxury surroundings. The Hotel opened in April. Perhaps that's part of its charm. Because it's so new, everything from furnishings to décor is contemporary by design. It's the first new build hotel to open on the Kowloon waterfront in over two decades and commands great views of the city's Victoria Harbour and Hong Kong Island skyline.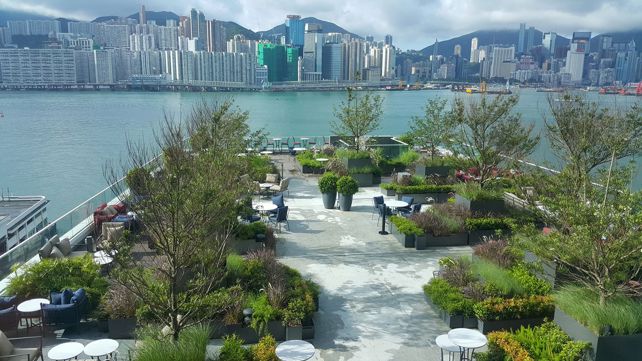 Hong Kong is overwhelming, it's extremely busy and almost never sleeps, which is probably why I enjoyed the stay here. The hotel is located in the quieter Hung Hom Bay area, although it's still conveniently located to major train stations and shopping destinations.
The hotel was conceived by award winning Hong Kong based architect Andre Fu. Renowned for his innovative approach to hospitality projects, Fu has become famous for utilising light and space. His designs are slick, modern, minimalistic and bright. He takes full advantage of the hotel's waterfront setting with beautiful elevated landscaped gardens that connect seamlessly to the hotel's public leisure areas. His work allows guests to take full advantage of the harbour views without clutter. The special themes are very much appreciated, as it gives you a chance to break from the intensity of the crowded Kowloon streets.
Over 60 percent of the hotel's 546 guest rooms feature decent views of Victoria Harbour and the Hong Kong Island skyline. The rooms have been well thought out, and come with plenty of electronic outlets to charge your phone and laptops.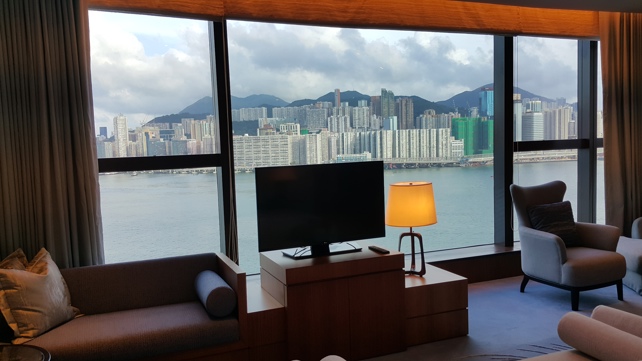 Because the hotel is on the edge of the waterfront, you could be forgiven for waking up in the morning and thinking you're on a giant cruise ship. Depending on the room you decide, you may have complimentary access to The Club facilities.   The Club is a 300-square-metre lounge with a comprehensive offering of personalised services and an amazing range of food. It's easy to pass the time here given the incredible good options and harbour views. The breakfast menu is extensive. You can order a cooked breakfast, or help yourself to fresh fruits, breads, pastries and jams, which are all beautifully presented. The staff are friendly and seem genuinely interested in your travels and the day ahead.  
All of the hotel's five restaurants and bars include both indoor and outdoor space overlooking Victoria Harbour. The Lobby Lounge serves Hong Kong "nostalgic classics." Try the chicken noddle dish. It's simple, but delicious and filling.
The hotel's main bar, Red Sugar offers views of the harbour and Hong Kong's skyline from an expansive wraparound terrace. It has a New York vibe, and is popular with Hong Kong locals. Although there's no dress code, make an effort and dress up. Locals take pride in their appearance. The terrace is also the best place to view the Symphony of Lights show, which is world's largest permanent lights show lighting up 40 buildings on both sides of the Harbour.
Then there's all-day dining restaurant Big Bay Café. It's more of a restaurant than café and offers a wide range of food options from traditional Chinese cuisine to beautifully presented cuts of meat. Visit this place when you're not in a hurry. Allow plenty of time to look at all the options. Presentation at Big Bay Café is everything, and that includes food preparations. You can watch the chefs cooking food behind the display stands. In fact, deciding on what to eat is entertainment in its own right.
With so many incredible food options, you may want to keep your fitness up.  Overlooking Victoria Harbour, Kerry Sports Base Camp gym goes beyond the typical hotel fitness facility. Open 24 hours a day, It offers a wide selection of modern fitness equipment.